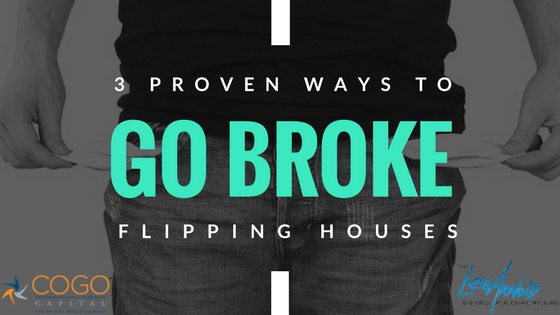 "We get more of what we want by helping you get more of what you want."
~ Our Motto
Let's be real; if flipping a house was as easy as it looks on TV, as lucrative as all the success stories you see circulating on our blogs and at our events, then everyone would be doing it.
The Lee Arnold System of Real Estate wouldn't have to EXIST if the above were true.
Let's be more real; it's not the hardest thing in the world, either. The possibilities are plenty, and finding and funding a deal is massively less intense than a lot of people make it out to be.
But when you haven't done it, or you've done it in a way that didn't work out, it's natural to be either overly ambitious or skeptical.
When you follow a proven system and get the experts on your side, this business of flipping real estate can be profitable and life-changing. If you need proof, just check out some of our success stories!
But if you let any one of these 3 mistakes hinder you, you're in for a world of hurt. Do yourself a favor and avoid the following pitfalls.
#1 – Believing Education Replaces Hard Work
We work with a lot of people. If you've ever been to an event sponsored by Cogo (like a Funding Tour) or attended a webinar presented by the Lee Arnold System, you may have heard our legal disclaimer. Most people who purchase real estate educational products don't succeed, and I'm sincere every time about why; because most people who "buy in" don't do anything with the education they receive.
Our motto isn't just about watching a few people succeed; it's about HELPING YOU avoid the pitfalls that can drag you down, destroying your faith in the system and, most importantly, damage your confidence in yourself.
We've all heard the saying originated from John Heywood's proverb collection of 1546; "You can lead a horse to water, but you can't make him drink."
As long as you live under the preconceived notion that purchasing an educational product will make things easier for you, you're not going to put the work in required to succeed.
Let me clarify, our educational products DO make the process easier for the following reasons:
– I take all the trial-and-error out of the process for you by showing you the PROVEN ways to make buying, wholesaling, and flipping houses successful.
– We provide the support needed to answer questions and assure you're heading in the right direction.
– We offer coaching to set you on the right path with minimal risk of error.
-We keep you up-to-date on market trends by teaching ahead of the curve (take our Master Lein Abatement, for instance, a business-changing strategy that isn't being taught ANYWHERE else).
However, we do not do the work for you. We can show you what to do, but in the same way getting a college education doesn't secure you a job upon receipt of your diploma, becoming certified in an area of our training doesn't come with a guaranteed check.
(We do have several high-level programs that come with guarantees. If you're interested in finding out more about these, we can offer you a FREE consultation with a Business Development Consultant if you call now at (800) 473-6051)
The bottom line is this; don't live under the false understanding that education replaces hard work. Hard work replaces training if you give it enough time and trial-and-error. But pair education WITH hard work and THAT'S how you become successful in less time.
And don't you want to stop wasting time? Would you rather still be where you are a year from now or have several successful projects under your belt and a few extra zeros in your bank account?
---
#2 – DIY Overload
No matter how many times I say this, there will always be someone who tries to prove me wrong.
There are those who acquire a property, do all the labor on their own, carry the property for much longer than they should; all of which requires more in holding cost, missed opportunities, the potential for mistakes, and many more money-burning ways.
I've seen people do this and it takes them so long to finish the house that they break even and don't make a penny on the project. Can you imagine laboring for an entire year or more and not make a cent? Ouch!
If you want to flip houses successfully, grow your portfolio, and make the kind of money you deserve, then you need to hire out and delegate the work.
What does it matter as long as you're selling the house for a profit and bringing home a check? Doesn't doing to work yourself save money you'd otherwise spend on contractors?
That's one way to look at it. If you have all the time in the world and maximizing your profits aren't on your list of priorities, then go for it.
But the problem with this model is it's not scalable. How many houses can you manage at a time if you're the one doing all the work? One. Two if you're fortunate and don't value sleep.
You need to understand that your time is more valuable than a job you can hire out for $12 an hour. Even on a small scale, DIYing it can cost you.
Would you rather spend 8 hours clearing out a trashed yard, or 8 hours acquiring your next project? Because I'll tell you this; you can't pay someone $12 an hour to find another property for you.
I'm not saying you shouldn't step in and get dirty when you need to. I still do. Just don't make the majority of what you do.
For more on this topic <CLICK HERE> to understand WHY.
---
#3 – Holding on to Bad Relationships for Too Long
I'm going to sound a bit like a relationship guru here for a minute, but it has to be said…
If you hold onto bad relationships, you will sink. It may not be now, it may not be in a few weeks, but those relationships will catch up with you and take you down.
I'm not talking about love; I'm talking about business partnerships, contractor relationships, and bad affiliates.
When you're "green" in the industry, you may believe that everyone has the very best of intentions at heart, and though this might be true most of the time, plans don't always equal quality. Whether you're the victim of a contractor looking to defraud you, or you've taken a bid from someone who talks a big talk but just doesn't know what they're doing, it doesn't have to mean you have to lose all your profit.
The key is to recognize when you're "being had" and correct it quickly. If the job can be repaired and the relationship salvaged, then you can move forward keeping a careful watch on things. If you're bleeding money because the person you hired isn't doing what they promised, give your best "Trump circa The Apprentice" impression and fire the lousy performer.
You're going to have to get used to making judgment calls that serve you and your bottom line. Remember that YOUR money is at stake here.
And, if you're still struggling to reconcile the fact that you have to be the "bad guy," it helps to understand that there are GREAT people out there looking for work who will do a quality job for what you're willing to pay. Don't be the reason the "wrong" person gets paid while the "right" person struggles to find work.
For more on how to manage contractors, <CLICK HERE> to read about LEADING CONTRACTORS
---
You can make your real estate investing business as profitable as you want.
It's one of the greatest things I've ever seen, and I continue to be honored and proud by the droves of students who come to me with little more than a dream and end up blowing me away with their consistent success!
If you want to get the training you need AND follow it up with the success that helps you rest easy at night knowing you and your family are financially taken care of for years to come, then let us help you. We'll find the holes in your education, plug you into the right opportunities, and get you on the path toward financial freedom now.
For your FREE consultation with a Business Development Consultant, call today at (800) 473-6051
One phone call could change your life.
One commitment could alter the course of your career.
One deal could save you from the financial burdens you carry on your shoulders.
But remember; EDUCATION + HARD WORK = SUCCESS. Leave the responsibility of training to us, follow the steps, and you'll get there faster than you can say "We get more of what we want by helping you get more of what you want."
To Your Success;
Lee A. Arnold
CEO
The Lee Arnold System of Real Estate Investing
Follow me on Twitter: @CogoCapital and @LeeArnoldSystem
Interested in dipping your toes in the field before you commit? Join us for a FUNDING TOUR to get hands on experience and find out if this business is truly for you. We'll take the guess work out of the process and show you what you need to hit the ground running with profitable deals, and then we'll FUND them through Cogo Capital!