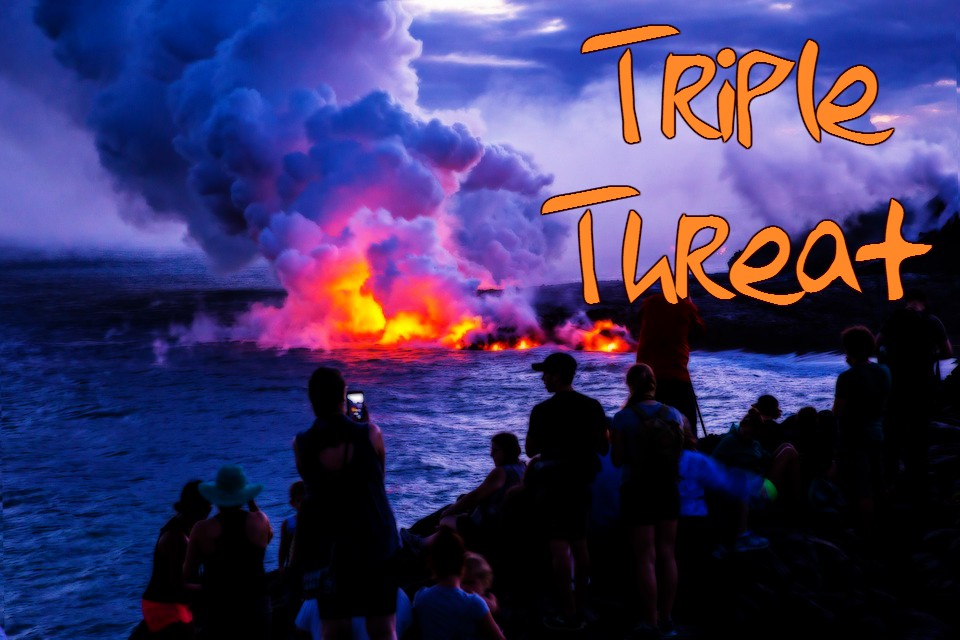 It's been an incredible week for my family and me. My amazing wife brought me to Hawaii to celebrate my birthday in style! Amid playing golf on the ocean-side cliffs and snorkeling with my kids, I can't help but feel incredibly blessed.
Blessed and proud.
I believe my success in life is a result of turning myself into a "Triple Threat," and I want to show you how to do it, too, so you can spend your next milestone birthday eating pineapple so fresh it drips down your chin and ruins your favorite shirt!
My "Triple Threat" qualities:
#1 – I Cultivated My Dream
Back when I made $3.90 an hour at a local grocery store, I may not have guessed at all the intricacies of my future success, but I pictured myself in Hawaii with my future family. I did! I knew that in order to achieve greater things, I needed a new dream—my current dream of one day being store manager wasn't big enough!
Just having a dream isn't sufficient. You need to cultivate it, so it grows big enough to outlast your mediocrity and failures. I could've put all my eggs in one basket and settled for making $40k a year, but instead, I cultivated a dream that was flexible to support a variety of ventures. I fostered a vision so strong that it survived when I lost money on a real estate transaction and drove me forward into the next. Each time I saw growth, I watered my dream, so it, too, would grow. Because I nurtured it, I knew my dream of massive success would outlive my failure and ultimately bring me to the top of my field.
If your dream is small, narrow, or fizzled out long ago, it's time to find a new one and cultivate it!
#2 – I Became an Expert
Believe it or not, I started out in the business of real estate, education, and private money lending knowing absolutely nothing. I could pack a bag of groceries so that the eggs didn't break, but I couldn't stack a real estate offer to save my life. So… I learned!
If you read 1 hour a day in your field, in 7 years, you'll be an international expert. That's only 2,555 hours of in-depth education. If you champion alongside like-minded people and seek out an education where you have peers, teachers, and mentors who care about your success, you will be an expert faster!
The best, most cost-effective way for you to start your education with us is to attend a Funding Tour. With several upcoming intensive weekends to choose from near you (of which we are PAYING your tuition), there's no excuse! To learn more CLICK HERE.
Or, check out our incredible new webinar series by CLICKING HERE or HERE. I'm making these resources more comprehensive and rich with information so you succeed!
#3 – I Had the "Secret Sauce" (and you can, too!)
My "secret sauce" is not much of a secret. In fact, it's one of—if not the most—common ingredient to success. It's the one attribute I share with Edison, NASA, an Einstein.
Grit.
You win by getting back up.
You can train yourself to have grit. Try this: assume the next 200 offers you make on houses won't work out. Come to terms with it. 201 will be the one. When the first 10, 20, 30 aren't accepted, you won't be surprised and discouraged. When 50 people in a row ghost on you and refuse to listen to your cold calls, you're okay because you knew it was going to be this way!
Now, it's a numbers game, and you likely won't have to wait 200 times. You'll see success before then, but it'll set your mind in the motion of grit. Next time something doesn't go your way, keep going. Next time you fail, try again. Next time someone tells you to give up because you don't have what it takes, prove them wrong!
At the end of the day, no one will determine your success but you. Cultivate your dream, learn what you need to know, and keep getting up! Ten years down the road, maybe we'll play 9 holes on the cliffs of Hawaii together…unless you'd like to make that 2 years instead of 10, then join me at the funding tour!
To Your Success;
Lee A. Arnold
CEO
The Lee Arnold System of Real Estate Investing
To read more articles click here.
To see our latest success story, visit http://cogocapital.com/blog/it-was-worth-it/