Are You Attractive Enough for Your Business?
"WAIT? What did he say?!"
"The Lee Arnold I know isn't shallow. Let me clean out my ears and listen again?"
Okay, I'll repeat myself…
Are you attractive enough for your business?
There. I said it again.
It's true; this is my topic for today. Your attractiveness.
But, before you jump to conclusions, let's take a quiz:
QUIZ TIME!
(I won't grade you, but please think critically about your answers)
When you meet a person for the first time, do you ever like or not like them for reasons you can't immediately articulate?
Have you ever been a part of a relationship/friendship that was forced, and no matter how hard you tried, it didn't work?
Have you been chasing money, but the faster you run, the further away it seems?
Are opportunities eluding you?
Have you heard the term "your vibe attracts your tribe" but you don't know what it means or how to make it work for you?
Are you a victim of your comfort zones?
If you answered YES to one or more question, you've come to the right place.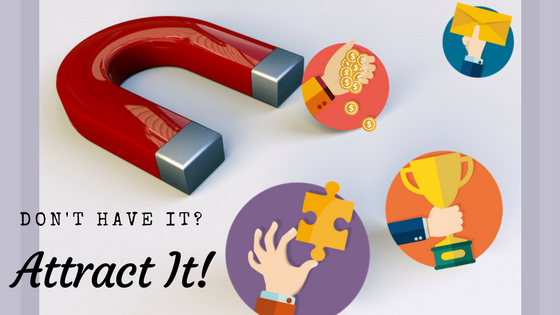 By now you may have figured out that I'm NOT talking about having six-pack abs or a new wardrobe. Though dressing for the job you want, dressing for success, and taking care of yourself so that you feel healthy and good about who you are is important for self-confidence, it is the tiniest slice of what attracts.
Not unlike clothes, hair, and hygiene products, these "layers" of attractiveness will help you in your business TODAY. And the best part is, you don't have to wait to employ them. All you have to do is start.
YOUR DON'T GET WHAT YOU WANT, YOU GET WHAT YOU ATTRACT.
---
Attracting the Right Relationships
If you're not where you want to be in life, you may be on the hunt for new relationships.
If you're single, you may be looking for love. If you're lonely, you may be looking for friendships. If you're unhappy at work, you may be looking for a new boss. And if you run a business, you're looking for good working relationships with coworkers and employees.
It can be a hard notion to swallow, but the people in your life, good or bad, are there because you attracted them into your life. You put off the "vibe" (again, good or bad and everything in between) to generate that relationship. If you're stuck in a toxic friendship with someone who keeps you up partying all night and you're job is on the line for being chronically late, YOU are the one in control of stopping it.
But how do we attract people in our lives in the first place?
It all starts with understanding who you are, who you want to be, and projecting that.
At the very core, what do you desire in life? You don't have to be "fake" but you also don't have to settle for the "you" that shows up without effort. If you want to attract the best, you need to be the best version of yourself.
Then, give your best to those who are important in your life.
To create the best relationships, no matter what those relationships are, you must bring your best self to the table.
Stop being distracted. Put your phone down and connect. Show your appreciation, give your attention, and above all, bring your best self or how do you expect to get the best from others.
---
Attracting the Right Clients
It's true. You can attract the people with whom you want to do business. I call these your "Ideal Clients." These are the people who provide mutually beneficial opportunities without unneeded struggle and anguish. These are clients who come back for more and make you money.
Whether you're a Private Money Broker who is seeking new long-term, repeat business relationships, or you're an investor looking to acquire homes, you need to work with people. (It's rare to acquire a piece of property without having to communicate with anyone first, and everyone you communicate with is a potential business relationship.)
This goes for attracting affiliates and partners, too. The more we want to accomplish, the bigger "crew" we need to help us get there. Maybe you need to work with a new Real Estate Agent, a reliable handyman, an experienced contractor. Just like clients, attracting these working relationships are within your control.
BUT, if you're not intentional about it, you could attract a relationship you don't want.
Having a bad day before you meet with a new contractor for a quote? Shake it off. Listen to a song in the car that makes you feel good. Write down ten things you love about yourself and your dream on a piece of scratch paper before getting out of the vehicle. Call a mentor or coach. Pray.
Do whatever you need to do FIRST so that you walk into the meeting as your best self in that moment. Then, your "best self" will be able to either attract or repel the relationship accordingly.
If you're in a rush, if you're upset, if you're distracted, you could end up hiring a "bad egg" that will cost you time and money.
But if you're on your game, you could pick up red flags you wouldn't otherwise catch. When you're at your best, you'll ask the right questions to filter out the duds to save yourself future stress.
---
Attracting the Right Money
I'm sorry to break it to you, but money isn't attracted to you.
You can follow the common misconception that all you have to do to be rich is manifest it with the right formula of positive thinking. Though it's true that you're more likely to get more money more quickly if you boost your mentality around money (by believing you're worth more than you currently make or breaking through some negative ideas you have surrounding money).
But you cannot just sit on your couch, attracting money with your mind, and expect a few zeros to appear in your bank account. Sorry.
You need a deal first, and then the money will follow.
So how do you "attract" the money you need for the deal?
Money likes opportunity.
In order to attract money, you need to create opportunity.
Money wants to insert itself into a vehicle where it can grow and get fatter
You don't necessarily represent that opportunity as an individual, and so money isn't attracted to you. You can be educated, highly skilled, and have contacts. But at the end of the day, you have to have an opportunity. In real estate, that opportunity comes in the form of property; what you purchase the property for, what you make it worth through rehabbing, and the price at which you sell.
You make your money when you buy. You realize your investment when you sell.
If you don't buy right, I don't care how pretety you make the house, you will lose moeny. You have to analyze the numbers. We often think "location, location, location." But your success is found in "price, price, price."
To determine how much your maximum offer should be on a property, CLICK HERE to read more.
---
Attracting the Right Opportunities
If money is attracted to opportunity, then how do we attract the right opportunity?
Uh oh. I have more bad news for you…
The "right opportunities" don't exist (or RARELY exist, but don't bank your success on "rarely") inside of your comfort zone.
If you want to attract opportunities, you need to take that small step outside of your comfort zone (and yes, I know it feels like a giant leap, but it rarely is).
Master strategist, Yiwen Cyrus, says, "Staying in a familiar environment is comfortable because you know what to expect. However, by not stepping out of a comfortable environment, new things will seldom occur in your life. The aim is to create opportunities by stepping outside the comfort zone instead of waiting for them. Otherwise, your life will be nothing more than comfortable. Stepping outside of your comfort zone will allow you to meet new people and attract a whole array of new situations."
And who wants a life that is nothing more than comfortable?
---
These practical ways to attract more and better people and environments will only work if you DO the work.
And look…
I'm going to call some of you out right now in a big way.
I know I have weekly readers who come back regularly in search of the next thing to take you to the next level, and I love it. Providing this resource for you aligns with our company motto, "We get more of what we want by helping you get more of what you want." And who doesn't love a FREE resource?
But there's another resource out there that you don't have to pay for, and so many of you aren't taking advantage of it.
You've heard me talk about FUNDING TOURS before. You've probably come up with some preconceived notions of what they are and why they aren't for you. Of maybe you've convinced yourself that you'll attend one "next year" or "when I'm ready to commit to my business" or "when an event is closer to my hometown."
But all I hear are reasons why you are putting your business last and your excuses first. We have arranged for your ticket to be PAID FOR because we believe in the unparalleled value this 3 day event adds. But don't take my word for it, see what these recent attendees have to say…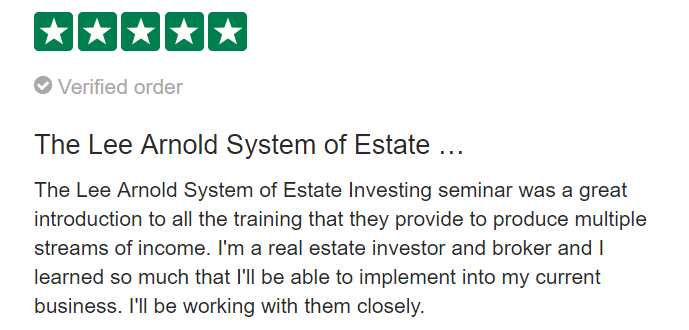 Join us for the next FUNDING TOUR and you can work on attracting all sorts of people and opportunities! The door is open, but YOU must walk through it.
Yours in Success;
Lee A. Arnold
CEO
The Lee Arnold System of Real Estate Investing
Follow me on Twitter: @CogoCapital  and @LeeArnoldSystem
Have a deal? Visit us at www.cogocapital.com to fill out your fast and easy quote. Want to learn more about COGO first? CLICK HERE to get to know all the ins and out.