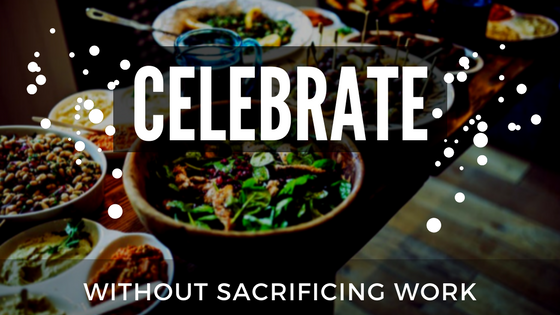 We're fast approaching the holiday season, in case you haven't seen the store displays and the commercials that seem to come on earlier each year. When October hits, it can be full force ahead for some families.
Where you had spare time before to call leads, you're now busy purchasing Halloween costumes, and before you know it, you'll have Thanksgiving to prepare for and Christmas parties to attend while wrapping gifts and hanging decorations and then you'll be ringing in the New Year with a glass of champagne and a deficit in your productivity wondering where it all went wrong.
So, how do you get anything done for yourself when the holidays take over? With a plan and enough focus, you can grow your business and enjoy that extra cup of eggnog.
Now's the time to prepare.
---
How can you make the most out of working through the season?
Plan your social events in advance.
Get the most important events on the calendar, and decline the rest of your invitations. Either you can party the season away, or you can keep things running. But if you try to do both, you'll spend all of January recovering, and that won't do your business any good, either. Don't forget that you should still be engaging with networking events as a part of the RULE OF 56. Don't forgo a REI meeting to attend the dreaded ugly sweater party.
HINT! It helps to be prepared to meet new people! No, not everyone at your spouse's company party is going to be interested that you're a Private Money Broker, but have cards and an elevator pitch ready for that one person who is. What's an elevator pitch? READ HERE.
Set realistic goals.
When more gets loaded into your schedule, you need to let go of other things to make room. Don't let this translate into not doing any work! Spend less time watching "It's a Wonderful Life" and take that hour to dial. Buy cookies instead of making them from scratch.
Plan around a lack of contacts.
Understand that contacts decline when Christmas approaches. Depending on where holidays lie in the week, offices could be closed for longer. Get contact heavy before the 3rd week in December–keeping your KPIs strong–and plan extra time after the 25th to charge it back up.
Take care of your health.
Drink more water than champaign and eggnog. Take a walk on your lunch break. Shovel the walk in front of your house. By eating well and engaging in refreshing activities that spike your heart rate, you'll fight against seasonal blues, expanding waistline, and energy deficits.
Don't wait until everyone is setting New Year's resolutions to renew your enthusiasm.
When the holidays take over, it can be really exciting. Who wouldn't rather sit by a fire listening to Bing Crosby than get into that icy car to drive by distressed houses? Either find enthusiasm about it or fake it. When you pretend to be enthusiastic about something, your mind finds reasons to be genuinely enthusiastic about it. Put Christmas music on in the car, grab some cocoa, and tell your family you're looking for Christmas lights while driving for dollars.
Learn something new.
Nothing revives enthusiasm like finding a new way to earn BIG. If you've been following any of our recent emails, webinars, or social media posts, you know what I'm unveiling a new Lien Abatement program in Las Vegas in December. To read more about it, CLICK HERE and HERE. This information is so huge that having it will give you a HUGE edge against your competition, it is so profitable that you can hit record income levels next year, and it's so new that no one else is teaching or taking advantage of it yet. If you want to end the year right and catapult your investing for next year, don't miss this training. Lein Abatement Specialty Certification weekend in Las Vegas on December 7th-10th, call us at (800) 473-6051.
---
Listen, I know the holidays can be stressful. You have recitals and kids with end-of-semester work and secret Santa and that one drunk uncle that makes family gatherings an exercise in biting your tongue. But, when you focus on the right things and give thanks every step of the way, you'll make it. You can find joy in each moment and maybe even pick up a house that no one else noticed because they were too busy discovering new turkey and cranberry combinations.
Don't let your business dwindle, your marketing suffer, and your leads get thrown away with the Christmas wrapping. Avoid the post-holiday rebuild by planning for success through to the end of the year NOW. Come January, you'll thank me.
To Your Success;
Lee A. Arnold
CEO
The Lee Arnold System of Real Estate Investing
Follow me on Twitter: @CogoCapital and @LeeArnoldSystem
Have a deal? Visit us at www.cogocapital.com to fill out your fast and easy quote. Want to learn more about COGO first? CLICK HERE to get to know all the ins and out!
For our latest success stories, click HERE and HERE to read how others are finding, funding, and making money on their deals.