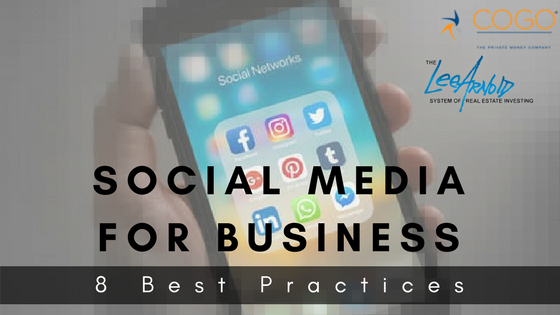 You don't have to avoid social media just because you don't understand it or have had bad experiences in the past.
Social media can be intimidating if you didn't grow up surrounded by it. But skipping it altogether won't do your business any good.
You can make valuable connections with industry professionals through the social media channels that could lead to opportunity, insider knowledge, advanced education, future partnerships, and more. It's never been more user-friendly…and more daunting.
You don't have to be a wiz to keep up with it all, nor do you have to spend hours-upon-hours every week just to establish your online presence. The last thing I want to do is keep you distracted from income-producing work by tossing you to the social media wolves!
If you're already part of social media, you likely know what I'm talking about. But it doesn't have to be that way; you can use the platforms as a business tool.
By following a few simple guidelines, you can maximize your online exposure without getting sucked into a wormhole of distraction.
---
1. Set it up!
If you don't have accounts on Facebook, Twitter, LinkedIn, Instagram, or Pinterest, choose 1-2 and dive in. Most people have at least one, and any of them will work for making connections.
If you already have one, you'll have to decide if you're going to use your personal account and shift the focus to business or if you're going to create a new account for business purposes. Either way, you'll want to…
---
2. Be consistent with your image.
Be authentic. Be who you say you are. You don't want to represent something you don't embody. If you misrepresent yourself, you will be unable to keep up with it, and when your true-self comes out, you have broken trust with people.
How does being authentic relate to your business?
Show up how you're going to show up.
If you network with people on Facebook and you're seeking an investor with good credit to partner with on your next project because you "don't have any money to contribute," but you post pictures of yourself flashing photos you buying your friends drinks at the club, guess who is going to see that?
Now, that's an extreme example, and I'm certainly not telling you to be phony. Be who you are and strive for the highest quality you can in your business and personal life. Remember to have a professional filter on and be yourself…everyone else is taken.
---
3. Diversify.
Don't make your business image feel like a used car lot. If someone goes to your page and all they see a mass of ads and sales pitches, but you haven't provided any value, they're going to leave.
Shoot for the 1-in-5 rule. For every post you make to promote your business, the other four should provide valuable content or be shares from others in the community.
You have expertise to deliver, be sure you're letting people know! You can post fun facts about your work, pictures of your progress, or even questions to the community to get them involved in what you're doing.
---
4. Interact!
Don't be a one-way street; respond to people's comments.
If you're active on social media, one of the easiest ways to make connections is by responding to people. Whether they post to you or you're on their page, interact with them.
Don't spend hours doing this, but some of the best connections you can make start as small connections. If their content is relevant, network a little by saying a few words. It's a great compliment to them and cements your face in their mind.
These connections are more organic when they start as comments or questions about mutual interests in favor of just finding 5 posts to comment with a link to your website.
You're standing on common ground with people who are interested in what you're doing. They want what you're doing. Don't shy away from talking to people because you don't think they'd be interested. If you know your audience, you have taken most of the discomfort and fear away from the conversation already, even if you don't know them IRL ("in real life," we might as well learn some of the lingo while we're at it!).
---
5. Know your audience.
Are people engaging in business with you? Maybe the problem isn't your content. Maybe you aren't gaining business traction with your social media because you're targeting the wrong audience.
Depending on which platforms you use, you need to target a specific audience. One way to do that with Instagram or Twitter is with hashtags. Like a tag in a blog, adding these to your posts will help you get exposure.
A hashtag is a word or phrase preceded by a hash or pound sign (#) and used to identify messages on a specific topic.
There are hashtags for everything, but here are some of the most relevant for you (feel free to copy and paste these into the bottom of your post to attract people searching for these topics:
#realestate #realestateinvesting #realestateinvestors #investors #wholesale #fixandflip #fixerupper #privatemoney #hardmoney #broker #privatemoneybroker #wealth #homeowner #inspiration #motivation #realestatenews #agentnews #realestateagent #realtor #realestatetips #Realty #ForSale #NewHome #HouseHunting #MillionDollarListing #HomeSale #HomesForSale #Property #Properties #Investment #Home #Housing #Listing #Mortgage #HomeInspection #CreditReport #CreditScore #Foreclosure #NAR #EmptyNest #Renovate #JustListed #openhouse #WantToMove #HateMyHouse #BuyMyHouse
Choose a few and throw them at the bottom of your posts, pictures, messages, etc.
You can even create your own hashtag to connect all your posts. Are you an agent? Why not have one like #YourNameOpenHouse for every time you post about an open house!
---
6. Don't get hung up on amassing likes, shares, and followers.
Each connection is an opportunity, but when you focus only on the numbers, you can miss the connections being made all around you. Getting notifications is extremely satisfying. So much so that studies have been performed that show strong connections between how the brain reacts to chronic social media checking and drug addiction. Again, that's extreme, but we can all agree that having a little notification saying someone liked our content feels good.
Focus instead on providing quality content, scheduling your ads and posts to maximize opportunities for connection, and use your responses as KPIs or measurable goals; a way to gauge how well you're performing.
---
7. Get organized.
With programs like Tweekdeck and HootSuite, you can schedule your social media for the week in as little as one hour or two. By adding this task on a weekly basis, you can eliminate hours of daily work.
You'll still have to check in regularly to interact with people, but when you do so with intention and stay focused, you avoid falling into a time-suck. You can do this by following the last tip…
---
8. Be intentional.
Every time you log into a social media account for work, you need to be intentional about your time. For instance, you could set a 30-minute timer and set out to make 5 new interactions by commenting or posting on someone else's page. If you don't set your intentions before performing the task, before you know it, 45 minutes could go by and all you've done is scroll and scroll down the page.
---
Bonus! Social Media Behaviors to Avoid
Don't get salty. Even if you receive less-than-stellar comments, reviews, or messages, it rarely helps to respond. And when responding is needed, don't respond with a retort.
If you can decipher the purpose of the comment, you can choose to address it or let it go.
Are they frustrated and looking for help? Or are they posting negative comments to get a rise out of you?
If you need a good article to refer to when criticism arises, save this one for reference:
https://neilpatel.com/blog/how-to-respond-criticism-online/
---
Do you follow us on social media? If not, you should:
Facebook:
https://www.facebook.com/LeeArnoldSystem/
https://www.facebook.com/CogoCapital/
Twitter:
https://twitter.com/LeeArnoldSystem
https://twitter.com/CogoCapital
To Your Success;
Lee A. Arnold
CEO
The Lee Arnold System of Real Estate Investing
To read our latest success story and learn how a high school dropout is now making 6 figure paychecks, CLICK HERE.