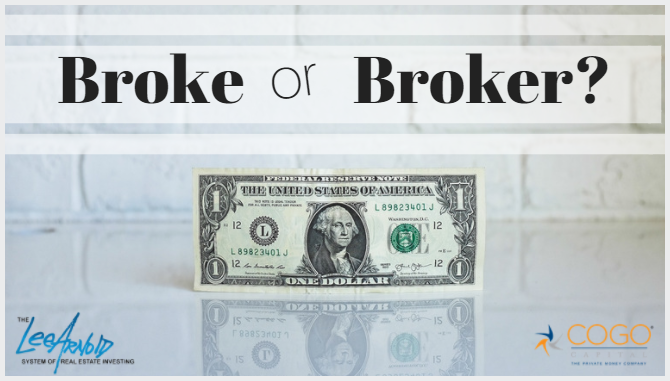 What's Your Side Hustle?
Whether you're sick of being broke and are looking for a side-hustle (and don't want to sell products to your friends and family or try driving for Uber) or you flip houses and want to increase your cash flow by adding another stream of income without doubling up on your workload, private money brokering could be for you.
You've probably heard the term "Private Money Broker" before. But what is it?
A private money broker is an intermediary who brings non-owner occupied commercial real estate investor borrowers and private money institutions together but does not use their own funds to originate private money mortgages.
Simply put, they connect real estate investors with the money they need.
What are some of the pros of becoming a private money broker?
– Private money brokers have the opportunity to work independently, at a very high-income potential.
-They can achieve both personal and financial freedom.
– Brokers don't need sales pitches because there are so many people looking for funding right now.
– There is no overhead, no receivables, no refunds, and no losses.
– This service is accepted and revered by both borrowers and lenders.
See, as a Certified Private Money Broker, our sister company, Cogo Capital, performs the underwriting, approval, and even the funding–providing you with a direct private money source. Our program offers 3 levels of certified training: Basic Certification, Senior Broker, and Master Broker options. Each certification level earns 1-3 percent in origination fees, respectively. This means if 1% in origination points is paid out of closing (loan amount x 0.01), a basic-level Certified Broker will earn $1,000.00 on a $100k loan.
Think you can close one loan a month? How would that help with your current financial situation? Not bad for a side-hustle. But what's included in the training?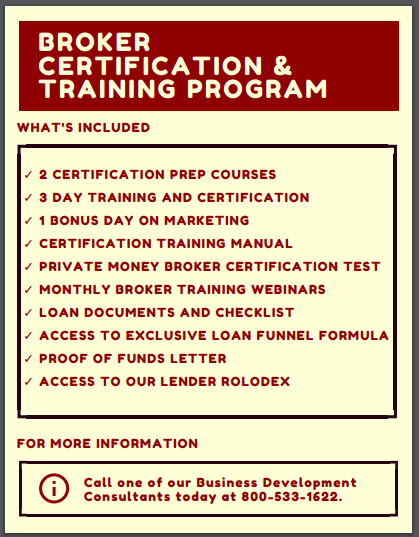 To learn more about attending an upcoming Broker Certification Program (like the one in Las Vegas June 8th-June 11th, 2017) call us at 800-533-1622.
Still wondering if this training is right for you? Look at what previous attendees have to say about the program:
"We both took the Broker Certification Program and Senior Master Broker program where we learned in detail how to implement the tools provided. We've seen how to build our company and make a substantial income, as well as help others make money. In fact, while we were in attendance, Durel posted an ad, got an application, and had his first deal underway with COGO Capital. Now that's fast!" ~Daryl & Durel Jones
"I completed the Private Money Broker Certification program and came back for the senior Master Broker program, and it is well worth your money. I recommend it to anyone who is sitting on the fence about attending. The information is invaluable. You get private time with the loan officers and underwriters, which I found interesting and helpful. They tell you what you really need to do to complete the loan and are open to questions and suggestions." ~Donna Dymkowski
"I learned more than I thought I would during this fun-filled program. The gaps have always been the part that killed my business, and Lee's Master Broker program helped me fill those gaps. After attending, I was ready to go home and start implementing the plan we put together for my business." ~Toby Pasillas
To get started on your Private Money Broker journey today, call one of our Business Development Consultants today at 800-533-1622.
We hope you'll join us;
Lee A. Arnold
CEO
The Lee Arnold System of Real Estate Investing
To read more articles click here.
Follow me on Twitter: @LeeArnoldSystem