Design Your Own Investing Dream Team
"I don't want to do this alone!"
I don't know about you, but the term "solopreneur" makes me shiver. It is perfectly acceptable to run a small business 100% by yourself and find some modest success. In fact, if you want to work yourself silly, you can probably bump that modest success up to the moderate level, but you aren't likely to achieve success that is scalable and flexible on your own. Who wants to build a level of financial "freedom" that doesn't allow you have the flexibility for the "freedom" part?
If your goal is to scale your real estate investing business to the extent that provides you success, finances, and freedom, you need a team. And the sooner you build your team, the faster you'll scale your business. But when you're just starting out—or when you've been at this on your own for a while—it can be hard to grasp how important a team can be.
In fact, you may feel like adding other people to the mix will result in more work and inconvenience for you, causing delays and opening risk. But…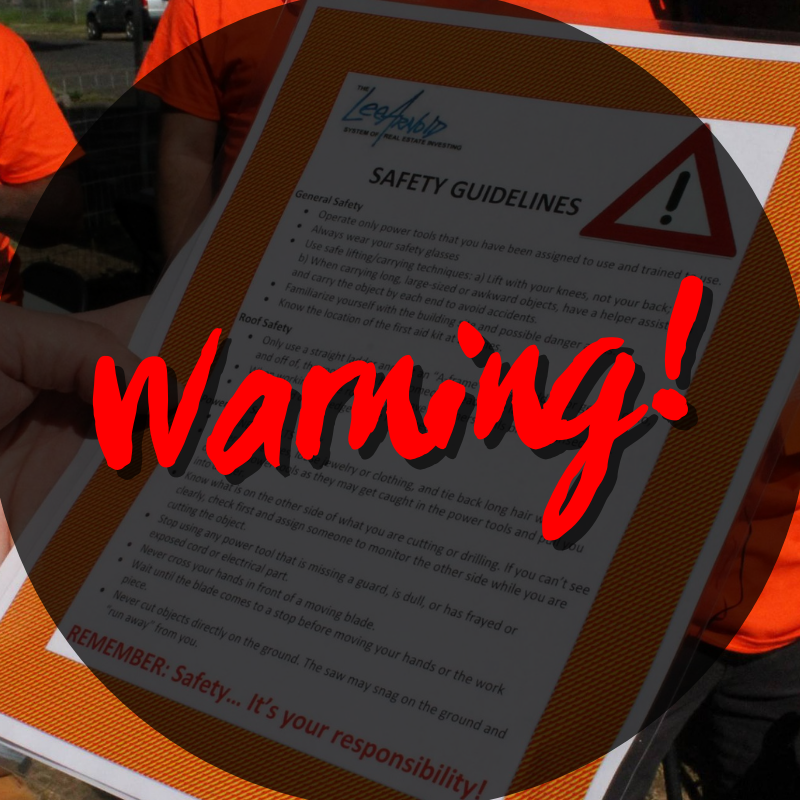 ***WARNING!***
…Isolation is a slow and silent killer. And your misunderstanding that bringing partners in will only cost you money, delays, and potential pain is a lie you tell yourself to stay in your comfort zone.
Harsh? Maybe; but it's true.
When we are isolated from others, we cannot:
See new perspectives and understand new thoughts;
Learn as quickly or scale as fast because our time is minimized in trying to control everything (which leads to little control spread over vast parts of your business instead of ultimate control over all of it);
The inability to learn new techniques to their fullest extent, which leads to the risk of opportunity loss;
The inability to see plots against you (or to have someone swoop in on a distressed home you thought no one knew about, undercutting your deal when you thought you had no competition);
Isolation can sneak in and sabotage your investing, and the cincher is that you don't know it's happening because your decline may not be noticeable until it's too late.
Building a figurative fortress around yourself may seem the easiest way to ensure safety, but it will lead to eventual danger of the worst kind.
***Instead***
Make connections and become a "person of the people."
Wherever you are in your business journey, and no matter what personality type you possess, you can cultivate a team of people, who work together for mutual benefits, encouraging and supporting one another into success. A good team, in a way, is like a single mastermind; a collective of knowledge, skills, and personal associations that work together to form a higher mind, benefiting all involved.
First Steps to Finding Your Dream Team
Network in your field widely, vetting out partnerships and reaching out to follow up on potential enterprises. Yes, you are opening yourself to risk when you involve others in your transactions, but this is risk you can and should manage well.
Instead of avoiding the danger associated with putting team members around you, learn to manage the hazard by becoming a leader within your industry. Not only will leadership and risk-management skills result in more impressive business accomplishments, they lead to a better you.
---
Partner Strategies
The art of Partner Strategies is like a NFL season draft. You've got your basic offensive positions to fill, running back, quarter back, and wide receiver, and then you've got your defense of linebacker, safety, and cornerback. Each has a job, each contributes to a singular goal for a mutual benefit. Some plays, you aren't going to need your fullback or field goal kicker every play, but it's good to already have them on your team.
You may not need each one of this sampling of partner positions, and you may find that you need someone who's job isn't on this list. It's better to have the connections than need them and not have them. Build your team wisely, and if you're new to this whole team-building thing and feel daunted by the pressure, think of this like big ol' game of football.
Maybe you'll need…
Equity Partners/ power equity team
Bird Dogs: People who find deals
Capital Partners
Handymen
Closers
Agents/Brokers
---
By now, you may be thinking, "Gee, I'm excited to surround myself with professionals who will boost me toward success by building their own! But, I can't even think of where to start." If a statement similar to that is rolling around in your mind, know this: You don't have to build your team alone.
When we train you to become a high profiting real estate investor, we also train you to build a successful team.
---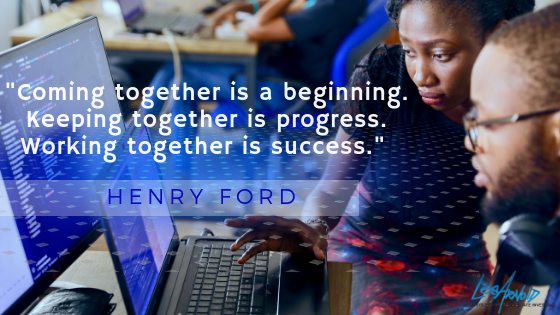 "Coming together is a beginning.
Keeping together is progress.
Working together is success." ~ Henry Ford
---
Certified Rehabber:
Discover the 4Fs of rehabbing – Finding, Funding, Fixing and Flipping. Culminating with in-the-field, hands-on
training you can not get anywhere else. This is perhaps the most important training you can attend. In this field training, you will learn how to partner with Lee Arnold and Cogo Capital and learn the step-by-step process for evaluating a potential flip.
During this certification, you can learn to build your team with the following members:
Getting your funding sourced
Wholesalers
Contractors
Brokers
Agents
Assistants
And More
---
Private Money Broker:
Become certified as a broker for thousands of Private Money Lenders throughout the country. Get into the world of alternative real estate financing, and completely change your finances, and the finances of people in your circle who need or have private money
In the Private Money Broker Certification, you will learn how to build a team of:
(Continual) Borrowers
Marketing team (and how to do it yourself)
Real Estate Agents to work with
Other Investors
And More
---
Lien Abatement Certified Specialist:
Teaches you how to find properties from local municipalities for pennies on the dollar, that have been a nuisance to the city.
Zombie Properties! You've seen them — the decrepit, abandoned, or nuisance homes that create an eyesore, and
run down the neighborhood's property values. Governments and government agencies also dislike them
and are eager to return them to the tax rolls!
You will learn how to build a team of:
City officials
City attorneys
Code enforcers
Your lending team
Your funding team
Your assistants and accounting team
Your contracting team
Your agent team
And more
---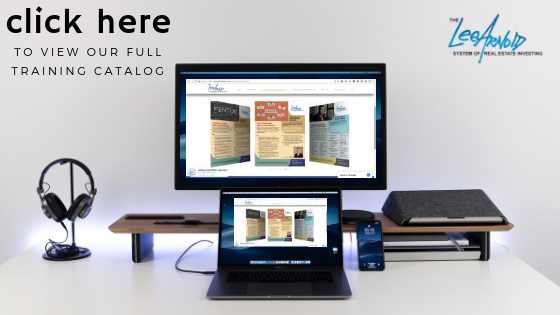 ---
Don't make the mistake of shortcutting your team building.
"Talent wins games, but teamwork and intelligence win championships." –Michael Jordan
To Your Success;
Lee A. Arnold
CEO
The Lee Arnold System of Real Estate Investing
Follow me on Twitter: @CogoCapital and @LeeArnoldSystem
---
My humble beginnings started as a bag boy at a local grocery chain in Spokane, Washington working for $3.90 per hour. Even thought I aspired to be a manager, I realized I was on the wrong path to success and needed to make some very important changes fast.
Through long years of trial and error, I built up a very profitable, million-dollar real estate business from the ground up. I'm proof-positive that training systems can and do work. Because of this, I created The Lee Arnold System of Real Estate Investing to teach clients how to translate workbook education and real estate theory into the real world of real estate investment success.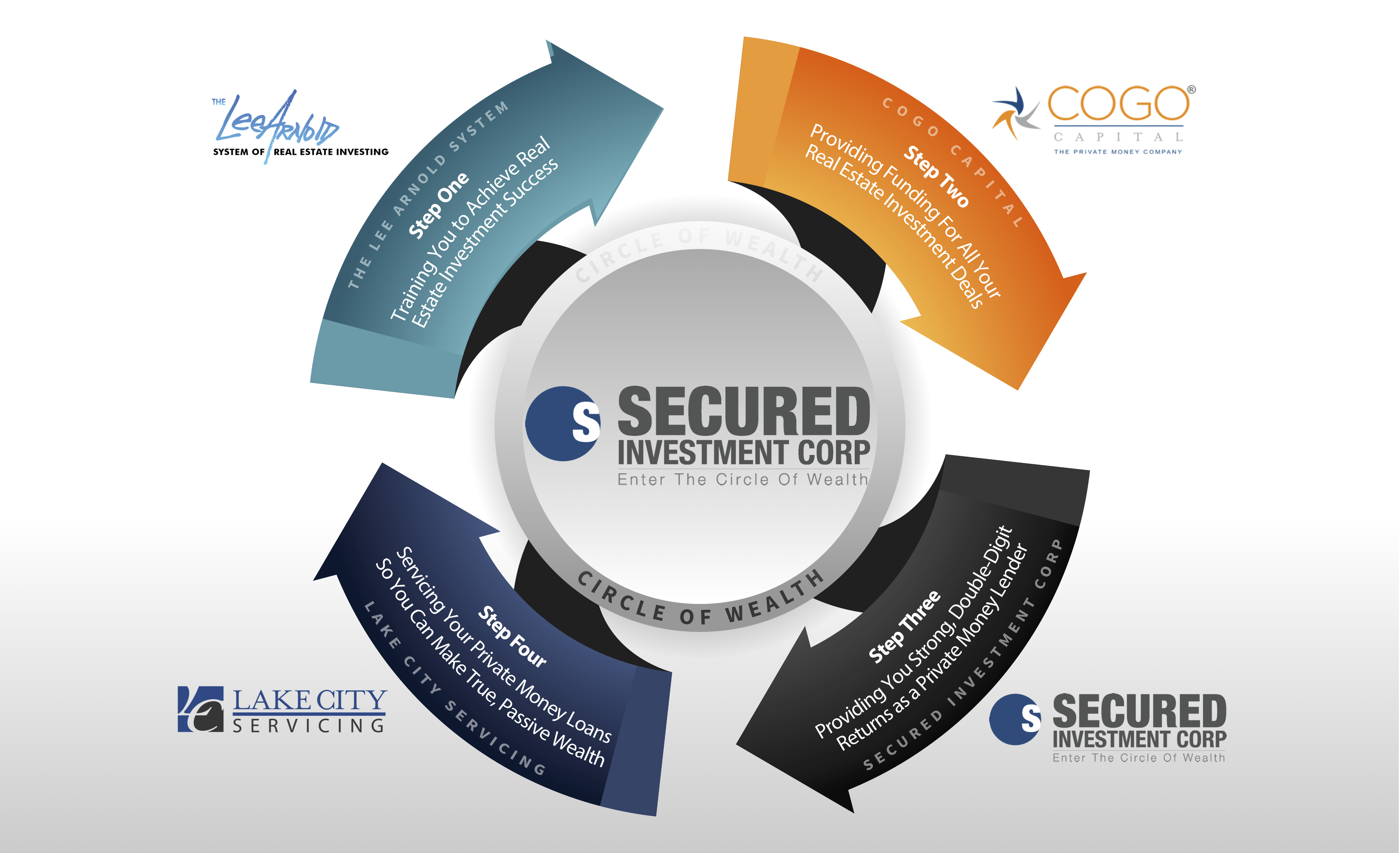 Then, I created Cogo Capital® where real estate investors could go for unlimited funds for their non-owner occupied investments. Since then, I have been involved in over 1 Billion Dollars-worth of real estate deals with clients. While the progression seemed natural, we were missing one, very large and essential piece of the pie. Then came Secured Investment Corp, which gave people the training they needed to safely lend on first trust liens (real estate), and make higher returns than they were currently seeing in their stock market, bank CDs, or bond investments. As we combined all these facets—training, funding, and the education to lend on real property—we began to notice a progressing trend of growth and success with the clients involved.
Through this model that we call "The Circle of Wealth," we noticed that people who entered in at the training level and borrowed funds for their real estate investments eventually became lenders in their own right. They then helped others obtain the capital needed to grow their real estate portfolios. This allowed everyone, on every side, to succeed. It is our goal that everyone can enjoy some level of success in The Circle of Wealth, and inevitably lap it several times over. It's time to join the Circle of Wealth today.