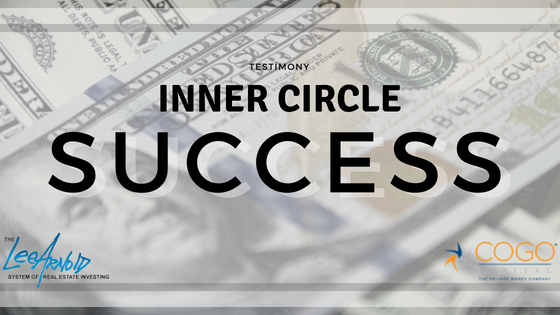 "It was do or die. After Lee's Inner Circle, there was no choice but to DO."
There's a privilege that accompanies helping others rise to the top of their game, and it's something I don't take lightly. Every once in a while, however, that honor is amplified by discovering a very real, very raw story of one of my students that seems fitting in the blockbuster lineup of a Hollywood film. This is one such story.
Lowel Yoder contacted me a few weeks ago with this photo of his $15,000 check that he made off a wholesale deal:
"Hello Lee. Thanks again for having me at the management training in Idaho. I learned a tremendous amount that we will be putting to practice in our next deal….My story from poverty to unlimited potential is this…growing up, I dropped out of school in the 11th grade. After family deaths, I remember once when all my family had to eat was peanut butter and celery. It was do or die. After Lee's Inner Circle, there was no choice but to DO. I now hold a wholesale check in my hand for $15,000 that took 9.5 hours of my time. I thought this kind of story was only for special people…" (some parts paraphrased)
I sent his email to the whole office, and I can't say that there wasn't some tears. Of course, we had to call him up.
"I haven't even cashed it," he said. "I like to see it in my office every morning."
With several other deals in the works–including an empty lot that he bought for $7,000 and just got an offer on it for $14,000–Lowel is actively pulling in income. The biggest deal he has percolating is his most recent rehab. After attending the Project Management Specialty Lab here in Coeur d'Alene, Lowel put the preaching to practice with his recent flip. By implementing the methods of proper staging, creating a winning video tour, quality ad wording, and more, the rehabbed house was primed and ready for sale. Cars lined up on the street, and Lowel received multiple offers within the first 5 hours of going live. He had the pick of the litter on offers, and that house is scheduled to close next month with a profit of around $100,000. Not bad for a 38-day rehab!
But, it wasn't always profit, profit, profit for Lowel, who hated school enough to drop out. His father and grandfather owned a business which substantially grew before they sold it. After his dad had died from a heart attack and his grandpa from cancer, the money from the sale of the business didn't last long. Lowel opened a bakery/cafe to help support his mother, but ended up working 20 hour days and sleeping at the bakery instead of turning a profit.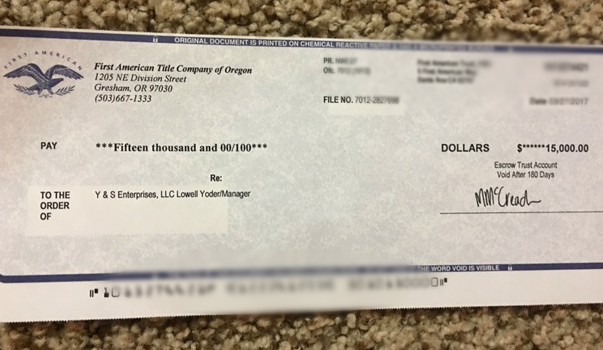 "One day I woke up and said 'I'm done.' I began considering real estate years ago because I saw other people making money in it and knew that's where I should go."
But, after spending $40,000 with a different real estate mentor only to have the company fail and file bankruptcy before his education was fulfilled, he never saw the mentorship and Lowel had to begin again from scratch.
Slowly, and with the unwarranted opinions of others, Lowel got started watching a series of the Lee Arnold webinars, where he learned more than he did spending $40,000 with the belly-up company.
"Things just clicked for me with Lee," Lowel said. "It was what I needed at the time."
Without any more education than the webinars, Lowel started with a few rehab deals that he lost money on. He was following the rule of 56, trying and fumbling his way through a few deals. Then, two years ago, he made $40,000 on his first profitable rehab. He did a lot wrong and left tons of money on the table, but it wasn't a bad start! Still, he forged ahead, reinvesting his money and making another $60,000 on a flip in just 13 days. With a little prompting from one of our education specialists, Lowel finally made the leap and invested in his education, finding a home at my Lee's Inner Circle training.
"It brought it all together for me," Lowel said. "It was hands-on. It made sense. I started implementing more of what I learned and ran my business the way I should've been from the beginning. It made the biggest difference."
Lowel has admittingly made a lot of mistakes. But he hones his craft and learns from every deal.
"As long as I'm getting better each time, it's worth it. I'm always trying to scale up," he said. "And that's what's so great about working with Lee in his Inner Circle; Lee sits you down after your deal to see what you did wrong and shows you how to change it for next time."
And with his $100,000 profited deal soon to close, Lowel has stayed true to his goal of scaling up.
Though Lowel's father and grandfather were successful in their business, after their passing, Lowel didn't have anyone to mentor him to stick with anything–someone who knew how to make money. His desire and drive were there; he just needed the education to unpack the steps of how to go from point A to point B.
If you have an excuse as to why you don't believe in yourself or can't afford an education, Lowel would be the first to tell you that your excuse doesn't hold water. Lowel hated school growing up, but now he loves education (he's the school board chairman, and even married a school teacher!). He's a little dyslexic but knows how to work around it. He started off in real estate with a fear of banks and people. He'd been a business owner before that lost him time and money. But, loving what he does makes up for his lack of traditional education, allows him to work around his weaknesses, and encouraged him to overcome his fears!
Lowel has even had friends laugh at him when he said he was getting into real estate, claiming he should just "go get a real job." Now, those same people who laughed at him come to him saying, "Hey, Lowel, I have a little bit of money. Will you help me invest it into real estate."
Lowel is an excellent student, one of many. Sharing his story bubbles me up with pride and hopefully bats down your excuses, too. Want to start your journey into the kind of success Lowel is reaching? Your opportunity is knocking. Tickets to our next Funding Tour are going for $497. But I have a hedge fund that is paying for your seat. To learn more and claim your seat while they're still being paid for, CLICK HERE.
To Your Success;
Lee A. Arnold
CEO
The Lee Arnold System of Real Estate Investing
To read more articles click here.
If you're interested in knowing more about the education Lowel Yoder received with the Lee Arnold System of Real Estate, call us at 800-533-1622. If you'd like to get a quote from the private money lender he uses to fund his real estate transactions, visit cogocapital.com
To learn the best neighborhoods for real estate investing, CLICK HERE.