Earn Your Wealth
by Getting Financing for Others
Want to work on your own schedule, setting monthly money goals that are achievable? Don't want to don a hard hat and pick up your hammer, but can't loosen the tie you feel toward Real Estate Investing? Looking for a way to make money between fix and flip projects?
You've probably heard the term "Private Money Broker" before. But what is it?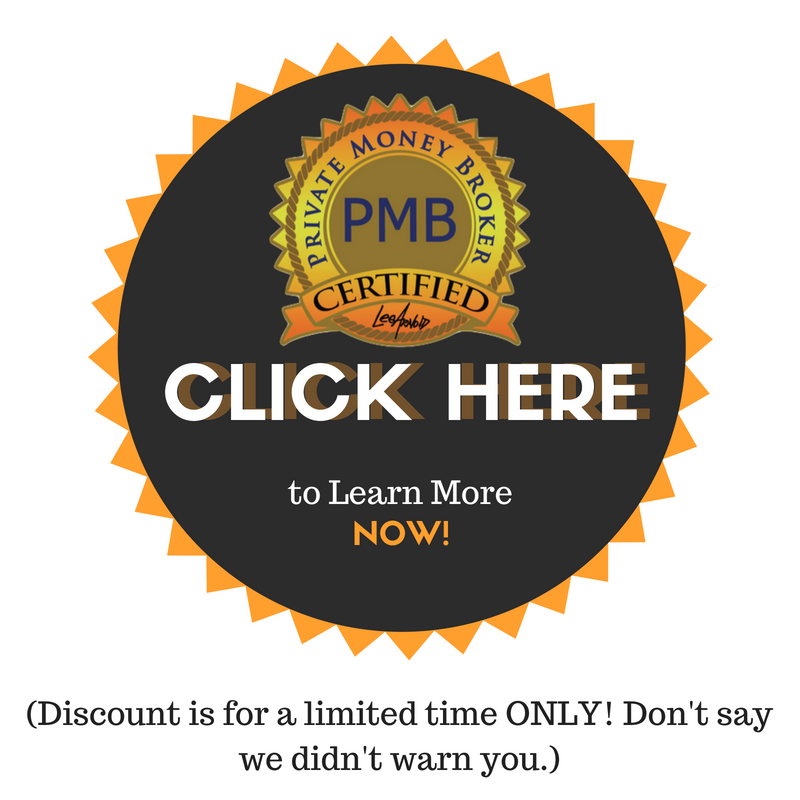 A private money broker is an intermediary who brings non-owner occupied commercial real estate investor borrowers and private money institutions together but does not use their own funds to originate private money mortgages.
Simply put, they connect real estate investors with the money they need.
Becoming a money broker is one of the easiest and most rewarding opportunities available. Why? Because your potential is dependent entirely on your motivation. You can begin on a part-time basis, and earn large "finder's fees," or work full-time with absolutely unlimited income potential.
What are some of the pros of becoming a private money broker?
– Private money brokers have the opportunity to work independently, at a very high-income potential.
– You can achieve both personal and financial freedom.
– Brokers don't need sales pitches because there are so many people looking for funding right now.
– There is no overhead, no receivables, no refunds, and no losses.
– This service is accepted and revered by both borrowers and lenders.
YOU can start by becoming certified as a Private Money Broker.
Think you can close one loan a month? How would that help with your current financial situation?
---
Chuck Bernhagen earned a $6,347.85 Broker's Fee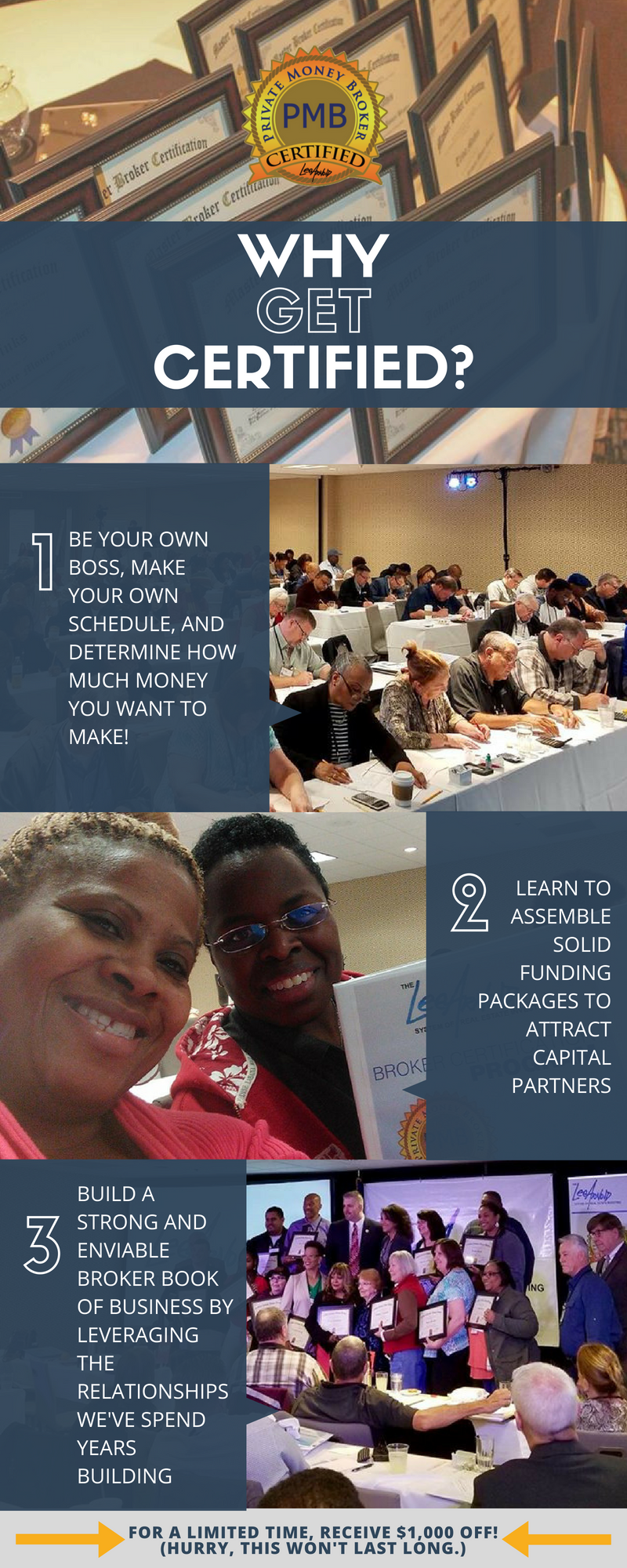 Vincent Barnes earned a $1,800.00 Broker's Fee
Jermaine Thomas earned a $2,115.00 Broker's Fee
Donna Dymkowski earned a $2,475.00 Broker's Fee
John Bockhold earned a $2,250 Broker's Fee
Alex Gurvitz earned a $4,110.00 Broker's Fee
James Baron earned a $3,666.00 Broker's Fee
Brooke Hurdel earned a $1,305.00 Broker's Fee
That's just a sampling of the success we've seen. More and more people are successfully brokering private money loans, and we've discovered that certification is the secret to their success.
And now we're offering you these secrets too and $1,000 off your certification!
​GO TO www.leearnoldsystem.com/GetCertified NOW!
This is the perfect chance to get several loans stocked in your pipeline. That way the checks keep coming in, one after the other, after the other…
You can't afford to miss an event that pays for itself after you submit your first loan and get your first broker fee.
If you have:
The Motivation
Love a Flexible Schedule
Want to Reach the High Profit Potential that Traditional Employment Almost Never Allows, and…
…then make sure you attend our next Private Money Broker certification.
If you're not a Certified Private Money Broker yet, and you're struggling to find borrowers…
If you're not a Certified Private Money Broker yet, and you don't know how to assemble solid funding packages that attract capital partners…
If you're not a Certified Private Money Broker yet, you CAN'T AFFORD to miss this opportunity.
Remember: We're offering $1,000 off the Tuition
www.leearnoldsystem.com/GetCertified
Robert Rodgers made $3,510.00 on his latest Broker's Fee:

---
We continue to expertly train, educate, and empower Private Money Brokers who are filling the SPARSELY populated private money space. We watch our brokers make six figures by helping thousands of new and seasoned real estate investors find funding. Don't let this opportunity pass you by. <<CLICK HERE>> now to find out how to get properly trained and certified by experts in the field who are making $30,000-40,000 each month in JUST private money broker fees.