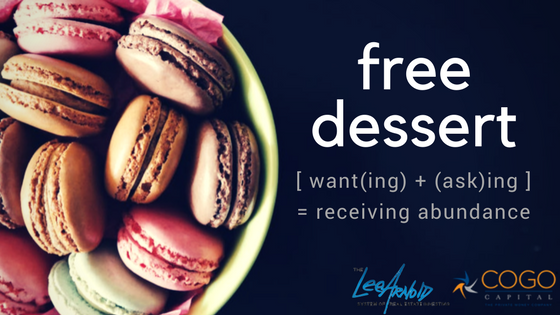 The little things in life often aren't so little.
Same goes for business practices.
I've taught for over a decade on a principle I call "Free Dessert," also known as "Free Dessert Your Way to Wealth." And my commitment to this principle is not because I have a sweet tooth.
I believe this principle is vital to your success. It's more than a free dish of ice cream at the end of a meal. It's more than asking for what you want when others don't. It's more than having an abundance in life.
Richness is everywhere, so why don't we have it? What keeps us tethered to our failures, making the same mistakes year-after-year like we're in the prison of letdown?
The reason is simple; it's hard to ask.
---
But what is it? How does getting "free dessert" lead to an abundant life?
Getting what you want in life doesn't materialize by accident, I'll tell you that.
If you wait until "Free Dessert" happens to you, you could get lucky once or twice in your life when, at the end of a nice meal, the restaurant manager is in a good mood with an overabundance of cheesecake and decides to bless each table with a surprise.
You could wait for it to happen to you, or you could ask for it.
You can stop lowering your expectations in life. You can begin to expect more out of each situation. You can make up for the "lack" in your life by asking for abundance.
---
Give a man a fish and you feed him for a day; teach a man to fish and you feed him for a lifetime.
---
So, does this principle only apply to little things like sweets?
Even the smallest pebble when dropped into a still lake will create a ripple larger than the mass of the rock ever was.
(In case you think I only speak in riddles, the answer to the question is NO. Don't make me wave a mustard seed analogy at you.)
The mindset of this concept reaches into why we fail, how we prevent ourselves from tapping into our natural creativity, and how we can make small steps that will create a ripple effect in our lives and the lives of those around us.
And because learning isn't just reading, I take you through a series of vigorous exercises that:
– Challenge your use of adversity
– Create better credit card experiences
– Help you unlock your potential
– Test your hypotheses
– Get you to stop saying "I Can't"
– And evaluate your changes
In addition to the interactive exercises that dig deeply into your mindset, we set and check in on your goals, evaluate 7 people who have survived bankruptcy, discuss business maturity, tackle the top 6 ways to get what you want, review the laws of success, and more.
---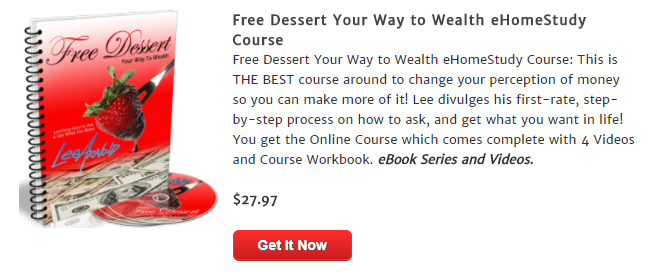 ---

Recently, we received an amazing testimony from a client who took the Free Dessert principle to heart, brought it to practice, and reaped more than just a little bit of sugar:
Good morning, Robert
My sister and I had lunch at the Silver Diner in Waldorf, MD on Tuesday after attending the funeral of my son-in-law's mother. I was starving and wanted to bring Yevette up to date on all I'd learned last week. This was our first time dining at this restaurant. We were immediately greeted and seated upon our arrival.
After enjoying a scrumptious meal, I asked our waiter, Marquis, for their complimentary dessert menu. He enthusiastically replied, "Yes, we give free dessert for your birthday." I informed him that it wasn't my birthday and that I was looking for their complimentary dessert menu and was advised they didn't have one of those. I told Marquis that he had provided excellence in customer service; however, I wanted to speak with the restaurant manager about the complimentary dessert menu. He looked very puzzled and quickly summoned Hira, the manager, who had coincidentally seated us.
I explained to Hira that I was looking for their complimentary dessert menu. After all, I thought it was a small price to waive for the praises that I would be singing about his establishment. Hira immediately stated, "I can do that." I wasn't expecting such quick compliance, so I asked him where I could post my praises for all to see and he provided the website for the restaurant chain and that all I had to do was select the Waldorf location. We enjoyed the lemon iced cake drizzled with a vanilla sauce, which was delectable, and left with a to-go order for my brother who is in rehab! True to my word, I posted my experience on the website. I also noted the corporate address and am sending a letter regarding the excellence in customer service that I received.
Although Lee explained the meaning of this exercise, I now get it. I felt so confident after that small triumph! Upward and onward!
Best regards,
Denice Harris
Managing Member
JHP Legacy Group LLC
---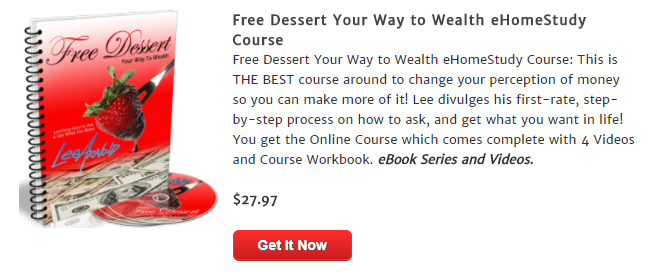 By taking this small step and investing in a road map to your mindset and behaviors, you can better utilize both your successes and failures to climb higher toward your goals. But don't even think about purchasing this program unless you're committed to improving. The principle of "Free Dessert" requires determination, courage, decisiveness, and a desire to enhance your current situation. If you lack those traits, take the 28 bucks and go buy yourself a few sheet cakes.
But if you're ready to step into the rest of your purpose-driven life with passion and focus, then <CLICK HERE> now.
---
Lee A. Arnold
CEO
The Lee Arnold System of Real Estate Investing
Follow me on Twitter: @CogoCapital and @LeeArnoldSystem
Have a deal? Visit us at www.cogocapital.com to fill out your fast and easy quote. Want to learn more about us first? CLICK HERE to get to know all the ins and out!