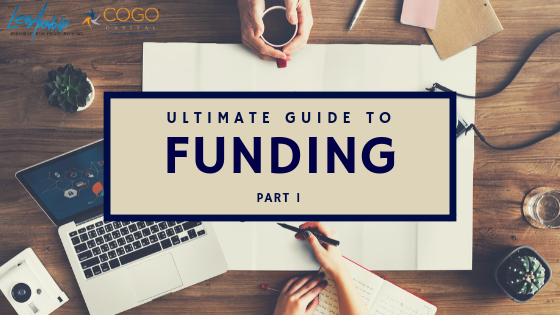 Ultimate Guide to Funding
Part 1
Private money loans are nothing new; they are simply the transaction between people who have money and those they are loaning it to. Private money loans create a direct path from the lender to the borrower, eliminating all the hoops involved in conventional bank lending.
A private lender looks at the real estate (the asset being funded) and bases the acceptance of the loan on the merits of the deal. Then, the private money lender loans the real estate investor the capital required to purchase a property, and often, they also fund the rehab money needed to get the property market-ready.
When a real estate investor identifies a great deal in a good equity position, they bring it to Cogo Capital. After putting the property under contract, the investor fills out an easy, one-page application from www.Cogocapital.com.
From there, Cogo Capital reviews the application and contacts the real estate investor for additional information. Cogo Capital researches, reviews and assembles all the due diligence items, which includes title insurance and a third-party appraisal.
The loan is closed, and the Borrower begins making monthly interest payments into the serving company who then pays the lender. Then, the borrower pays off the loan, and the lender and the borrower do it all over again. It is a constant cycle and fits perfectly into my <<Circle of Wealth>>
---
But what can you do to improve this process and assure you're getting the most out of your loan? In this two-part series, we'll discuss what YOU need to know about your private money loan, so you're prepared to invest properly again and again!
First, let's talk about getting your deal funded:
What are the Steps to follow to ensure that my deal gets funded?
While conventional lenders have little imagination and are more concerned with the numbers on the page alone, private money lenders live in the realm of possibility. If you come to private money lender pitching an ugly house with a great ARV, you're speaking their language!
Having a private lender on your side gives you the confidence to put properties under contract. As long as you find the no-brainer, steal of a deal, do the proper due-diligence, and turn in a completed package to your private money lender.
---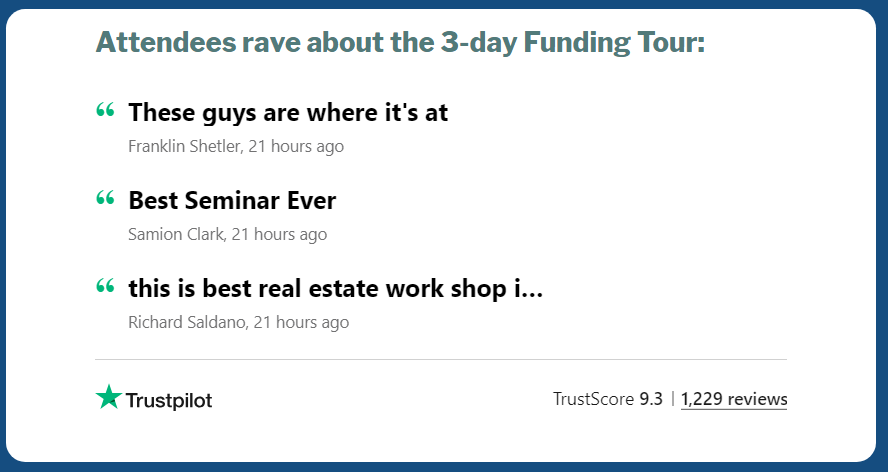 Want a $250,000 pre-approval letter for your next real estate investment?
Join us for a Funding Tour in a city near you and the letter of pre-approval is yours to:
---
Everything is more simple when you have a process that you can follow, and private money lenders have created that easy-to-follow system for you to take the financial guesswork out of your project.
Let's unlock some of the secrets that all successful real estate investors incorporate into their process.
Step One: Find the Proven, Repeatable Model
Real estate is one of the surest, proven, and best investment vehicles on the planet for wealth generation. However, finding the income-generating property is an art. It's not a particularly difficult art, but it's a necessary one, especially in today's market. You need a healthy dose of education to properly estimate the size, scope, and the profit forecasts on any given property. To do it right the first time, you could even use seasoned professionals to guide you along the journey.
But even if you don't work with us at the Lee Arnold System of Real Estate, you should find a proven, repeatable model to base your work on, and stick to it long enough to succeed. Too many entrepreneurs dip a toe in "just to see if it's for them." You know what this does? It gives you a general knowledge of a little bit of a field. Then, it leaves you excited but without enough training.
If this is you, you need to cannonball into your investing career. Quite dabbling and pick a focus. Then, get the training you need to take that focus all the way through to financial fruition, and then do it again. We'll be by your side, helping you to stop wasting your time and energy becoming a Jack of all Trades, Master of None. ,
Also, it doesn't hurt when approaching lenders to show a history of solid borrowing, and that takes a focused approach rather than jumping from one discipline to another. It isn't what they'll base their decision on, but they'll look at it. Don't worry; if you've never had a private money loan, you CAN still get a good one. Figure out what works for you and cultivate it!
Step Two: Get it Under Contract
Money is attracted to the tangible. Don't shop too early for money. I tell people this all the time, yet it's the most common mistake we see in today's private money arena. I promise it's much easier to shop for cash when you have a deal in hand and under contract.
An investor usually comes to us excited about an incredible deal they found, and they're on the hunt for cash. They've learned all about it, it's size and scope, the cash flow possibilities, and they are thrilled with the prospect.
Even if they've done their homework on the property, they are missing the most important element to advance the funding—they haven't secured the deal. Without putting the property under contract, the investor has nothing to stand on.
Any deal could be a good deal, but lenders want to make sure it's your deal before they look at it. As long as the property is not under contract, it's up for grabs by anyone and everyone. No lender will spend a lot of time and resources on a property that can be snatched out from under them at a moment's notice.
Why Is This a Common Problem?
Life teaches us that we need a form of payment before we can buy something. Normally this is the case. You can't purchase anything at the department store without a legal form of money.
But in real estate, it's backward from the way you learned it. The most successful real estate investors put hundreds of deals under contract at a time, knowing it's a numbers game. To get an easily funded deal, they may need to make more offers than they ever intend to fulfill.
I'll tell you what; if you write too many offers that are far enough below ARV (after repair value) and every one of them says "Yes," we'll help you scramble to find enough funding to fulfill all those amazing deals. If you're up to your eyeballs in amazing deals because you wrote too many offers and now you don't know what to do, call us directly. We'll help you navigate the beautiful mess you've made!
What Does Securing the Deal Mean?
Putting the house under contract is an easy 4-Step process.
Step 1: Prospect and Review Potential Properties
Step 2: Write Offers
Step 3: Get Offer Accepted by Seller
Step 4: Put Earnest Money in Escrow to complete the contract Once these 4 Steps are completed, you have a fully executed Purchase and Sale Agreement, the property is under contract, and you are ready to shop for cash.
What Are You Afraid Of?
Some people are afraid of anything with the word "contract" in it. They ask;
"Doesn't this mean I have to buy it?"
"What if I decide to pull out, won't I be on the line for this property?"
"How can I get my earnest money back if I don't like it?"
Before you settle into a full-fledged panic attack, let me ease your mind by giving you a few "outs" or "clauses" to put in your contract.
There's the "subject-to third party approval of buyer's partner" clause and can save your bacon if a deal goes sour. A partner could be your spouse or your private money lender. Heck, your friend, your pastor, or the barista at your local coffee house could fill this position and provide a way out if you don't find funding.
You could also use a "Refundable Clause" where you put in an exploratory or investigative period of 10-30 days to perform inspections and appraisals. You get to determine whether to move forward or not. In this case, if you do not like something (cracked foundation, water damage, mold, termites, etc.), you can back out and get a full refund or your earnest money.
Important Note: Having the License Advantage
The fastest way to put a house under contract is not to be bound to the agent who holds the listing. By being licensed yourself, you can go to the MLS, identify the potential deals, and click the button that auto-populates the property information into the Purchase and Sale Agreement. Then you simply insert the terms and conditions, the price you're willing to pay, and the date you want to close.
Step Three: Due Diligence
As with everything, finding and securing private money is a process, and putting your best foot forward with an organized due diligence package will get you closer to the cash and profiting on a great deal.
Right at the top, the first due diligence item that you need to take care of when you're looking for funding for a deal is the "Purchase and Sale Agreement" signed by all parties. This shows that you are the person who has the absolute right to purchase the property at the price and terms stated in the agreement. This secures the property while you do the rest of the due diligence and prepare the loan package.
If written correctly (see Step #1), you can also make sure some clauses protect you, should the deal, not pan out the way you anticipated. The Purchase and Sale Agreement goes on top of your due diligence package. Next to add to your attractive loan package is the Comps pulled by a local real estate agent. Sometimes this is called a CMA or "Cumulative Market Analysis," and it helps the lender understand the valuation and justification of the seller's asking price or your offer price.
Next, gather the Tax Assessor's Information. This information goes over the year the property was built, the number of bedrooms and baths it has, the square footage of the home, the size of the lot, and the condition of the property.
Check with your lender for specifics, but this is the basics of what you need to begin shopping for cash. Some lenders, who don't know you will want to see your credit score, bank statements, profit and loss statements, real estate portfolio or experience, etc. They want to know if you have the know-how and ability to service the loan that they are giving you.
However, when it comes down to brass tacks, investors only look at two things:
What is my rate of return on this investment?
What is the exit strategy to give me a return of my investment?
You must clearly detail how you intend to accomplish both the return on and return of the lender's investment.
Once you've established yourself with several lenders, you'll find that the list of due diligence items you need to give gets smaller and more minor with each transaction.
For the Newbies or Novices
When you're new to borrowing private money or new to the private lender, you may have to also provide these things.
Conservative Loan Package:
Purchase and Sale Agreement
Borrower Agreement
Earnest Money
Comps From a Local Agent
Photos of the Property
Deal Analysis
Exit Strategy (Normally Sale or Refinance)
Credit Report
Bank Statement
Proof of Legal Equity
Cash
Collateral
Monthly Debt Service
Contractor Agreement (if applicable)
Invoices or bids for work
Hazard Insurance
Contact information for agent Preliminary Title
Join us again next time when we discuss more about private money loans what YOU need to know about them to succeed.
Cogo Capital offers a full service Private Money platform that will help you through your entire deal from application to closing. You don't have to make any awkward phone calls to strangers for funds or worry about drafting documents, the HUD 1 statement, or pulling title.
Whether you need fix and flip loans, a rehab ARV loan, or a cash-out refinance, Cogo Capital is the answer you've been looking for.
We look forward to funding your real estate success!
To Your Success;
Lee A. Arnold
CEO
The Lee Arnold System of Real Estate Investing
Follow me on Twitter: @CogoCapital and @LeeArnoldSystem
Have a deal? Visit us at www.cogocapital.com to fill out your fast and easy quote. Want to learn more about COGO first? CLICK HERE to get to know all the ins and out!
---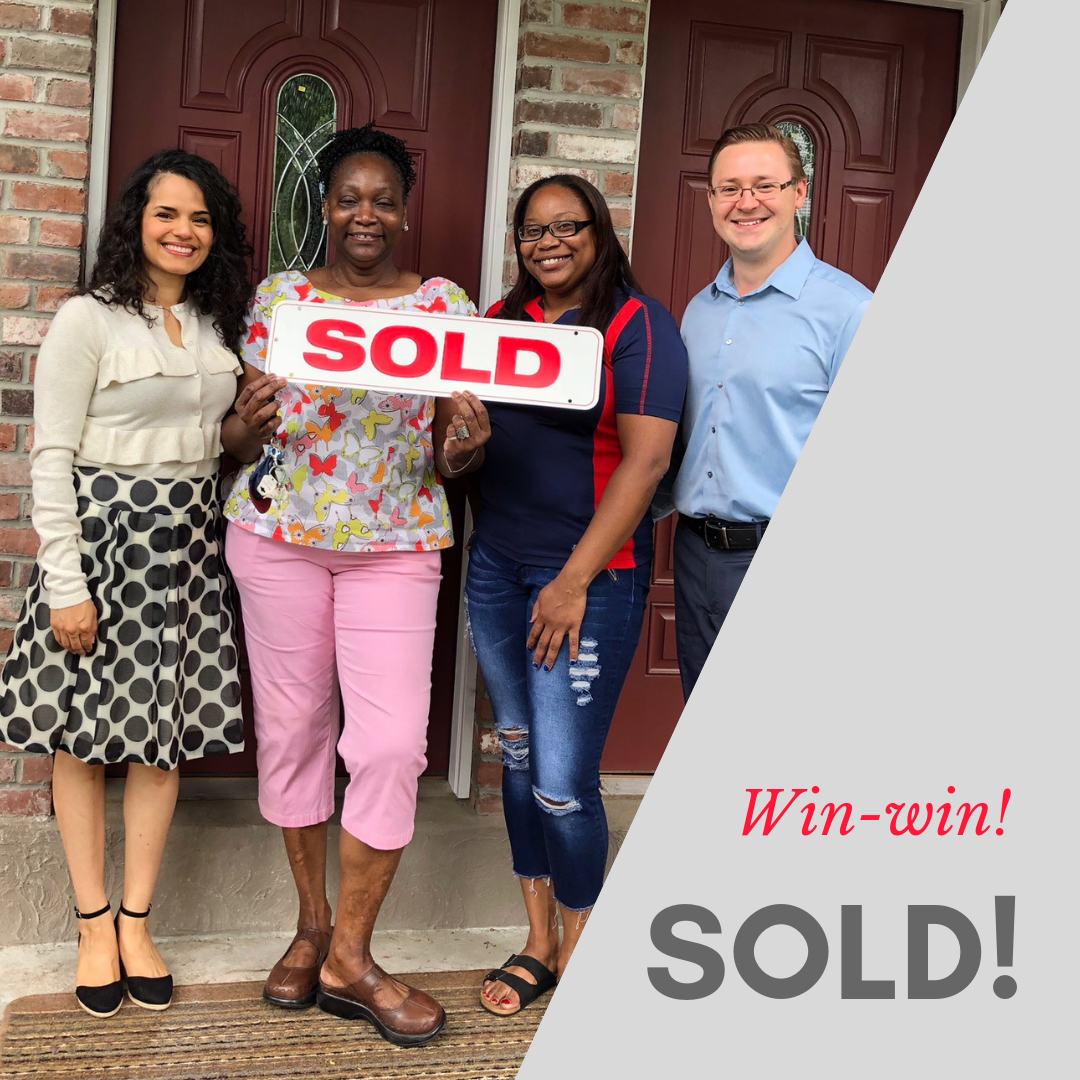 Dmitriy and Gaby Dyachuk have become very familiar with Cogo Capital with the four deals they closed with them over the past year.
"…Once again, Lee considered all the details and came up with a unique solution. He helped me close on the third deal by financing just the purchase of the property…
Lee, my wife and I are so thankful for putting your trust in us and going over and beyond to assist us in closing these transactions! We are so excited that we didn't lose the opportunity to have our first successful payday of about 53k!"
To read their full story <<CLICK HERE>>