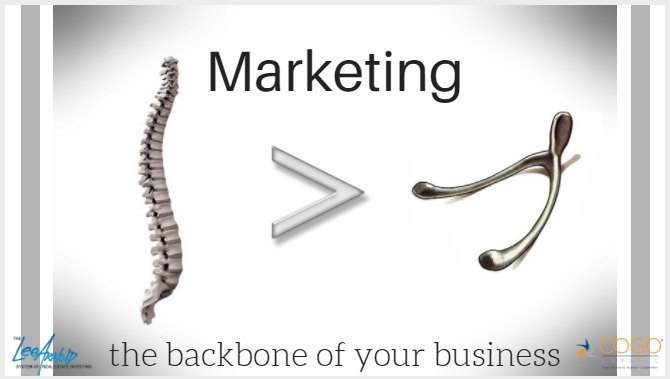 Running a business without a marketing plan is like relying on a wishbone to keep you standing instead of a backbone.
When was the last time you thought about your marketing plan? Perhaps without knowing it, you thought about your marketing plan very recently, or lack-thereof. If you've had a thought lately that went something like this, "Why can't I find any good homes to make an offer on?" or "Why aren't people answering my Craigslist ads?" then you've thought about your marketing…at least accidentally.
Marketing gives you guidance and focus.
Marketing is the seed from which the plant grows.
Marking is the backbone of your business!
Let's check in, shall we? Follow the following 4 steps to get back on track:
Determine your Baseline- You need to know where you are starting before you can determine where you want to go.

Where did you start with marketing this year?
Did you hit your goal in the first quarter?
How far under or over your goal were you?

Lay out your Statistics- You need to know the numbers. Be granular and honest.

What were your biggest referral sources?
Where did you get the most referrals?
Where can you count on referrals coming from in the future so as you plot your business growth, you have a foundation to start on?
How many ads did you put up and where?
What was your conversion on those ads?
How many letters did you send out?
What was your conversion on those letters?
How many bandit signs did you place and where?
What was your conversion on those signs?
How many offers have you made?
How many of those offers went to contract?

Make Some Initiative/Action Plan- Determine where you want to be at the end of this quarter, next quarter, and by the end of the year. Work backwards to get there.

What can you do now that you haven't done in the past.
Can you get a coaching?
Can you attend a specialty lab, workshop, or conference?
Where are the holes in your education and how can you fill them?
How can you improve your SEO for your website?

Budget- You need to have a budget of how to generate more referrals.

How much are you willing to spend on your effort?
What is your sales closing process?
Do you even have one?
What is your inquiry management process?
Do you even have one? (yes, these are part of your marketing strategy!)
If you've answered all the questions honestly and formulated a plan that is based on solid numbers, then I would recommend using someone in your network to keep you accountable, whether that person is your spouse, partner, business partner, or friend from your local REI group. Stay committed to marketing yourself, be flexible to account for results you may not have been expecting, and commit to constant growth.
(For more information on marketing and gaining your ideal client, visit this article HERE.)
Remember, if you aren't marketing your business and you expect to make money, you might as well be putting your faith in a wishbone. And I wouldn't put my faith in anything that breaks at the slightest tug!
To Your Success;
Lee A. Arnold
CEO
The Lee Arnold System of Real Estate Investing
Also, I'm answering your hard money questions HERE. See if your questions were answered, or follow the instructions at the bottom of the link to ask yours now.
Have a deal? Visit us at www.cogocapital.com to fill out your fast and easy quote. Want to learn more about COGO first? CLICK HERE to get to know all the ins and out!
To read our latest success story and learn how a high school dropout is now making 6 figure paychecks, CLICK HERE.