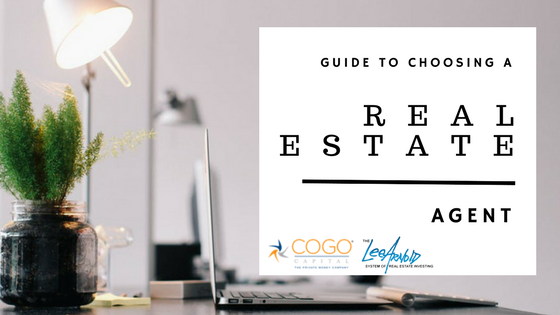 If you have a project in the works and are nearing completion, you may be in the market for a Real Estate Agent.
Or, you may be looking for a new project and are seeking the assistance of an agent.
(Now, I recommend you become one if only to do your own deals. In fact, I suggest you become a private money broker, too. If you plan to rehab homes on more than a hobby level and you continue to use an agent and broker instead of becoming one, you're leaving money on the table. But, it helps to work with a professional agent to sell your first few homes, and it always helps to work with them to BUY homes. So, regardless, read on…)
Not all agents are the same.
Not all agents are used to working with investors, "unusual" offers, or private funds.
If you're going to be working with an agent, you want an agent who is familiar with real estate investors like yourself. You want one that will put a magnifying glass over your hard work, highlighting the quality, craftsmanship, and benefits of the home. Someone who can act as a bird dog for future business, who is aggressive and creative, who thinks outside the box, who knows where to find good deals, and who you want to do business with again.
It may take some time to find the right agent, but just like finding the right house to flip, it's worth it. After all, you cannot risk having a weak chain in your team.
How do you find an agent?
– Take recommendations from other local investors.
– Drive around and take down the names and numbers of agents you see on signs. Don't limit yourself to just one neighborhood.
– Search online and get on the phone.
– Honors and awards are great, but it's more important to find an agent who fits your needs as an investor.
How do you find the right Real Estate Agent?
By asking a lot of questions.
First, find out if the agent works with or has worked with investors. It's great to have an agent with a lot of experience, but it's more important that they have experience working with other investors. They need to know that you're looking for homes that are distressed and in need of repair, homes that are at least 20-30% below market value.
What other questions can you ask an agent?
Don't limit yourself to this list, but these will get you started:
– How long have you been an agent?
– Are you an agent full time? Or just part time?
– Have you worked with other investors, and for how long?
– What types of real estate do you specialize in?
– How many properties did you sell last year?
– Do you work alone or as a team?
– Do you have any satisfied customers for me to talk to? What about unsatisfied customers?
– What neighborhoods are turning properties over faster than others?
– Have you ever owned an investment property?
– Have you ever flipped a home?
– What is the average number of days a property sits on the market in the neighborhood we're looking at?
– What is the vacancy rate in this area?
– What areas seem to be increasing in value
– Where would you invest if you were looking for a property to flip?
– What kind of property would you buy?
– What is your commission structure?
Then, communicate and communicate some more.
– Tell your agent what you're looking for and where; be specific.
– Don't let them pre-qualify you. Tell them you will use private funds and can close quickly.
– Tell them you'll be making a lot of offers, and some offers will be very low. If they balk at your low offers, you're likely not working with an agent that has experience with an investor after all. (In fact, you won't likely look at a property without making an offer. READ HERE for more information!)
From contractor to agent, you want a team of professionals who are successful when they make you successful. Take the time to build your team, and you'll be turning over more homes each year, with greater prosperity.
To Your Success;
Lee A. Arnold
CEO
The Lee Arnold System of Real Estate Investing
Follow me on Twitter: @CogoCapital and @LeeArnoldSystem
Have a deal? Visit us at www.cogocapital.com to fill out your fast and easy quote. Want to learn more about COGO first? CLICK HERE to get to know all the ins and out!