Have We Been Looking at it All Wrong?
Is "Pushing Beyond Your Comfort Zone" Overrated?
If you're under the impression that you'll have to crawl through a grueling parade of discomfort just to taste the smallest victory, you may have taken some well-intentioned advice too literally.
"Push yourself beyond your comfort zone" is a traditional statement for motivational gurus, enticing us to stretch enough to reach wad has been unreachable. The advice even sounds like it should work; because surely, we should keep growing, learning, and testing ourselves throughout our careers.
But, the advice isn't 100% accurate.
If you've started a career in real estate investing, this advice to push out of your comfort zone can put some misguided thoughts in your mind. If you've been writing offers, growing your acquisition strategies, and perfecting your marketing all without significant results, you may be eager to move into a new profession instead of compounding everything you've learned.
Wait. What does your "comfort zone" have to do with giving up?
Here's where the advice works… but also doesn't.
When we think of our comfort zone, we think of avoiding things that make us uncomfortable. This is exactly what you should push, but within the "comfort zone" of your strengths. See, most people think that pushing the boundaries of what they are comfortable with always lead one down a different path of work, study, or relationship.
For instance, if you've been operating a business in Private Money Brokering and built it up well at first but have since plateaued, it's going to feel "out of your comfort zone" to start training to play professional ball. But just because it's uncomfortable to soak a jersey in sweat while fumbling a ball down the field doesn't mean you should go for it. If Private Money Brokering is your thing, then push yourself within your comfort zone [of the profession] but out of your comfort zone in the nuances of the job.
But how do you push your comfort zone within your comfort zone?…
---
Learn more about becoming a Certified Private Money Broker HERE! or call 800-341-9918 to speak with a Business Development Consultant about your options for upcoming training. Becoming a Private Money Broker is one of the easiest and most rewarding opportunities available. Why? Because your potential is dependent entirely on your motivation. You can begin on a part-time basis, and earn large "finder's fees," or work full-time with absolutely unlimited income potential!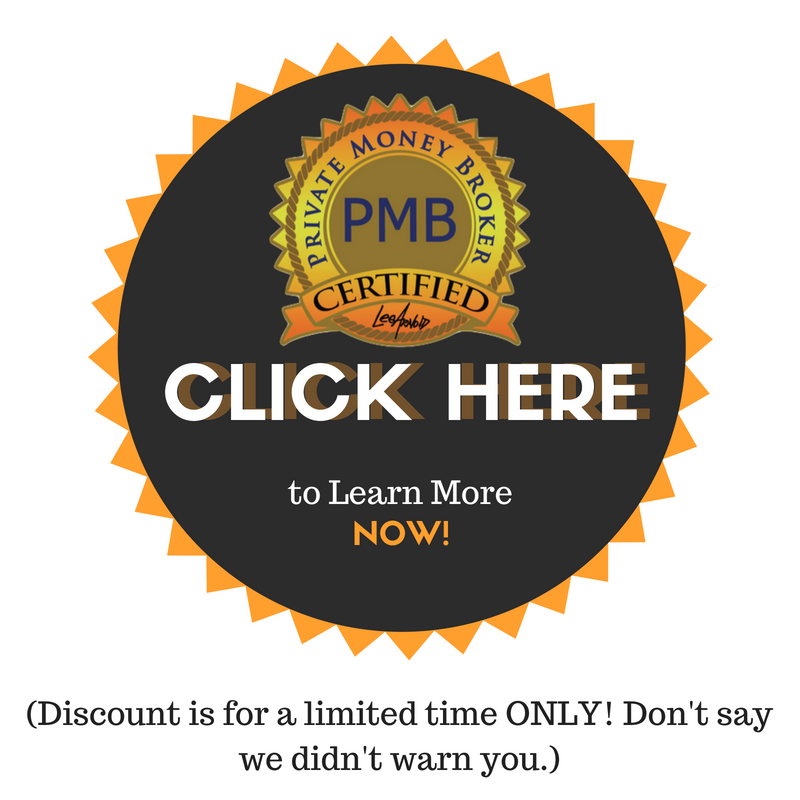 ---
Way to push yourself that work:
Look at your strengths. Where are you proficient but could use some improvement? You may find that these improvements are within your understanding (i.e., you know you should be cold calling or making follow up calls but avoid it because you're uncomfortable on the phone) but out of you zone of natural comfort.
Visualize your success. Instead of putting pressure on yourself to fix something, visualize yourself completing it. If we get what we focus on, we should focus on the success of overcoming our comfort zone.
Combat your fears with research. If you've been afraid to invest in yourself, instead of brushing off a valuable educational training as "unattainable," do your research. What will you GAIN from an education? Will the next level of certification you achieve come with guarantees (p.s., some of ours do… call 800- to find out which certifications offer money back, performance-based guarantees. Because we don't want your money, we want your story).
How to do it:
Start small. If you need to brush up on your cold calling, start with a small goal of just a few calls. If the thought of having an offer rejected keeps you from trying to acquire new properties to flip, then put out ten offers that are so low-ball no one in their right minds would take them. You'll get comfortable with the "no" quickly, and you may even surprise yourself in the process with a good deal.
Turn it into a learning experience. When dabbling out of your natural comfort zone, take each lesson to heart and use your successes and failure to propel you toward the appropriate change. The more you learn, the more the boundaries of comfort and discomfort will blur and the closer you'll be to your next goal.
Get comfortable being uncomfortable. Sometimes all it takes to grow quickly, rising higher, faster is to resolve that you're going to be uncomfortable for a while. Instead of shying away from it, lean into it. The pressure will produce perseverance and purpose.
You can push and stretch appropriately without bailing on your strengths altogether. You can stretch your reach and "up-level" to a new stage in your career…
Or, you can stay on your couch, fidgeting with your phone while the real work (on yourself and in your career) is just beyond your point of ease.
If you're ready to take a new step toward the edge of your comfort zone but within the comfort zone of your professional strength, then join us for an upcoming event coming to a town near you. If you're just starting and don't know where to go first, we recommend starting with a Funding Tour, where you'll learn the basics of using private money, what to look for in an investment property via bus tour, analysis property acquisitions, learn to write offers, cover entry and exit strategies and more. <<CLICK HERE to learn more>>
---
If you're ready to start investing wisely in your real estate career but don't know where to start, visit FundingTour.com for information on the next Funding Tour in your area. Others are taking action toward their financial future, securing private money financing for properties, and getting in the Motion of Money.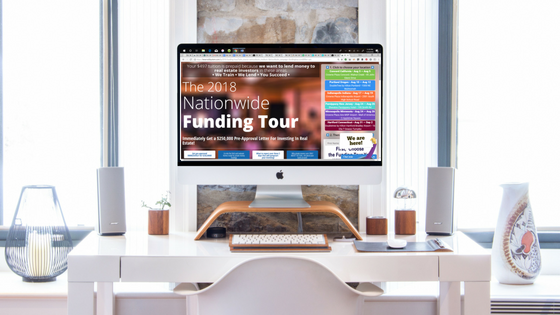 ---
If you've already plugged into a funding tour…
and are ready to take the next step in your profession with a certification, you can still qualify to attend a certification event this year, getting a jump-start on your goals for 2019 with a ton of new training to set you up for success. To learn about your upcoming <<Rehab Certification Event>> even CLICK HERE. And to see if they'res still time for <<Broker Certification>> then CLICK HERE or call 800-341-9918 to speak with a Business Development Consultant today.
If you're ready to stop grasping at straws and start spreading roots in your profession, now is the time to get uncomfortable. But you don't have to do it alone.
"We get more of what we want by helping you get more of what you want." ~ The Lee Arnold System of Real Estate Motto
To Your Success;
Lee A. Arnold
CEO
The Lee Arnold System of Real Estate Investing
Follow me on Twitter: @CogoCapital and @LeeArnoldSystem
Have a deal under contract that you would like a quote on? Let us know. You can fill out a quick questionnaire at CogoCapital.com to receive a rate quote via email or you can call us anytime at (800) 747-1104 to talk to a loan officer. With millions deployed and millions to deploy, we want you to get the capital you need for your real estate investing.
---
Download your PDF here: RCP or visit https://leearnoldsystem.com/lp/catalog/ to learn about all of our certifications. You can bring your questions to a Business Development Consultant today by calling (800) 473-6051.
---
Timothy just left a new 5-star review of Lee Arnold System of Real Estate Investing:
I would highly recommend this company to all first time investors that I come across that seek funding. I enjoyed the entire team that was out in Milwaukee to train those of us in attendance.
Gary Meyers and Jarrod done a wonderful job during this weekend. I really enjoyed the bus tour to the properties in South Milwaukee. Secondly, it's a faith based company and this is very rare in the business and I see that God has blessed and will continue to bless those around Lee Arnold.
This is an education company as far as Real estate, training and funding. I wish I had met these guys a little earlier before I actually invested with the other companies which I won't name. I am currently in debt to the tune of $100K due to the other companies. If I known what I know now, I could have bought 10 homes and be on my way to financial freedom.
I would like to thank the entire team that was in Milwaukee for the weekend for a wonderful experience and I hope that we meet again.