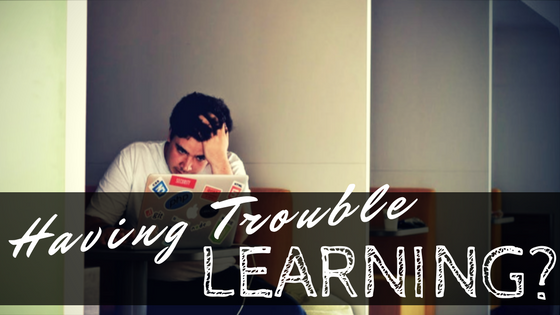 Do you view education as a series of hurdles over which you must jump to reach a destination that is somehow more satisfying than the destination you started? In other words, do you learn only to graduate school, to earn a promotion, or even just not to get fired?
Or, is education a daily, fluid interaction in which you draw information from various channels to find simple yet compelling answers to otherwise complex problems? (Yes, some people wake up excited, wondering what they will learn that day!)
In other words, do you learn because you have to, or do you learn because it enriches you?
When you work for yourself, it often feels like you're creating hurdles, and then jumping over them. Every time you learn something, you turn around to see a stack of items you know nothing about. You need a community of learners who are engaged together. You need a network. You need a mentor…but that's a blog for another day.
Learning can be great! It can come daily like a soft drizzle of rain, or come a few times a year like a tsunami.
For some, it comes easy. Some are hungry for it (some people around my office call it having an "itchy brain"). But, for some, learning has never been exciting and feels like drudgery. If you fall into that category, you may not have found the right topic (no matter how enticing you make fly fishing, I'm not going to want to learn about it).
But since you're here–and you wouldn't be reading this unless you had at least some interest in real estate investing–and you're still having trouble learning what you need to begin, my assumption is that you haven't found the right WAY of learning yet.
---
Ask yourself the following questions:
1. In what form is learning fun for you?
2. Are you a visual learner or an audio learner? What about a hands on learner?
3. What is stopping you?
---
If you've ever seen Edgar Dale's "The Cone of Learning," you'll recognize these statistics:
We retain only 10% of what we read, 20% of what we hear, and 30% of what we see. (Sound familiar? You've been to high school, right? How much of it do you remember?)
But…
We retain 50% of what we hear AND say (such as watching a demo and then telling someone about it), 70% of what we say (when we give a talk or demo), and 90% (WOW!) of what we both SAY and DO!
If you want to retain 90% of what you learn and have that learning be fun, then you need to get hands-on. Do a dramatic presentation, simulate the real experience, do the real thing!
This is why I actively encourage people to jump in feet first! Find a deal. Grab a project. Do the thing.
A home study course or webinar is great. Don't get me wrong; many people succeed by using tools at home, learning on their own schedule, and applying the information, transforming it into success. It's a viable option for many.
But, if you have the option and the opportunity to learn on the hands-on level, why wouldn't you jump on that opportunity and retain 70-90% of the information? You could attend an upcoming Rehab for Riches event, a Specialty Lab (such as the Technology Lab where my staff will be helping you build your online presence…sorry, this class is already full), or even a Lee's Inner Circle where we get REALLY hands on.
My advice? Retain 90%.
Do the thing.
For more information on any of the events above, CLICK HERE or call us at 800-533-1622.
To Your Success;
Lee A. Arnold
CEO
The Lee Arnold System of Real Estate Investing
Follow me on Twitter: @CogoCapital and @LeeArnoldSystem
Have a deal? Visit us at www.cogocapital.com to fill out your fast and easy quote. Want to learn more about COGO first? CLICK HERE to get to know all the ins and out!