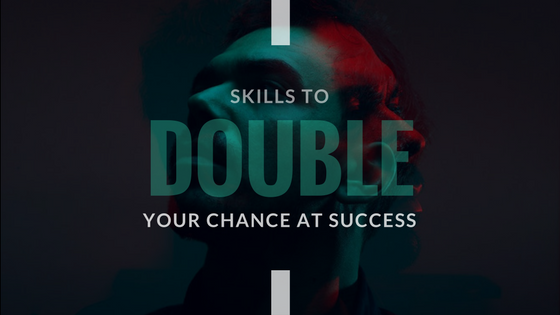 Do you have dual purpose skills?
Bill Gates was once asked, "If you could have any one superpower, what would it be and why?"
His answer?
"Being able to read super fast."
Of all the things he could have said, he chose to answer the superfluous question by addressing his reading ability. Why? Because he understands the principle we're going to discuss today; the principle that each time you add a skill to your roster, you double your chances for success.
The more skills you acquire, the more times you increase your likelihood of success.
Not all skills are created equal and are subjective to the work you do. Learning to toss the perfect pizza dough won't do you much good in the real estate investment field (unless you pay your contractors in pepperoni slices). But I want to share seven universally needed skills that will not only double your chances at success, they will pay off for as long as you live.
---
Here are 7 skills that are challenging to collect but will last your whole life:
1. Being honest with yourself.
Mark Cuban, owner of the NBA's Dallas Mavericks, co-owner of 2929 Entertainment and chairman of the AXS TV, and one of the main "shark" investors on the ABC reality television series Shark Tank said this;
"Know was you know and know what you don't know and be honest about both."
Too many people lie to themselves about their abilities, time, and ambitions, but rarely see it all come together because they aren't honest with themselves. You can build upon little truths, but you can't take a big lie and make it a reality.
2. Having confidence.
I've never seen someone with "natural ability" in everything they do. But I HAVE seen people who seem to be amazing at everything. How? They have confidence, and that confidence is their power to exceed their vision.
Like a muscle, you must work out your confidence in order for it to grow.
3. Listening.
If I could give you one take away, it would be this one: be the last one to speak. Give others the ability to say what they know is true. Then, bite your tongue from commenting and instead ASK questions, so you will understand why they have the opinion and not just what their opinion is.
Don't listen to figure out when it's your turn to speak. Listen to hear, analyze, and understand.
Once you've gathered everything you need to know, move on to the next skill…
4. Speaking up.
I once attended a real estate event with a gentleman whose main goal for attending was to network with others for his brokering business. There came a time in the day when attendees could line up by the stage to spend 30 seconds in front of the microphone to introduce who they are and what they do. I asked my friend, "So, you're going to go up there, right?" and he shook his head, claiming he didn't have anything to show.
I pulled out a piece of yellow paper, made him write his phone number in big numbers, and sent him up to say, "Hi, I have money to lend if you need it, here's my number!"
Speaking up is invaluable, whether it's on stage, in front of a room, on the phone, or participating in a meeting, God gave you a voice for a reason. Use it!
5. Manage your time.
We've traded effectiveness for business, and it's killing productivity!
— Click here to read more on time management–
Don't clutter your life with stuff that keeps you from being effective. Time is the only thing we spend that we can never replace. Don't waste it.
6. Be someone who doesn't whine.
It isn't productive to complain about what you don't have, how you compare to others, what isn't happening, etc.
Train your brain to look for the opportunity in every hurdle instead of seeing the hurdle in every opportunity, and I guarantee you'll become unstoppable.
"I don't like people being negative, whining, or moaning. If you're in a situation you're not in control of, just change." Keith Barry
7. Being consistent.
You can outperform anyone who is more knowledgeable, talented, gifted, or privileged than you by simply being consistent. It's called a grind for a reason.
"Success isn't always about greatness. It's about consistency. Consistent hard work leads to success. Greatness will come." Dwayne "the Rock" Johnson
"For changes to be of any true value, they've got to be lasting and consistent." Tony Robbins
---
These are all internal skills, ones that relate to any profession. But the principle that learning new skills doubles your chances at success is equally true when you acquire skills related to your business.
What skills can you pick up to benefit your business? If you can't think of any, borrow from this list:
– General Contracting Skills
– House Inspection skills
– Project Management
– Design (think fliers, banners, bandit signs, business cards, etc.)
– Design (think staging)
– Color Coordination
– Social Media Management
– Ad Writing
– Effective Communication
– Scheduling
– Budgeting
– Acquisitions
– New Marketing Skills
– Accounting
Have a specific hole that can be plugged with a new skill but don't know how to obtain it? Give us a call and we'll help you find the training you need 800-533-1622.
---
You don't need to know everything. Remember how we talked about doing a S.W.O.T. Analysis and playing to your strengths while hiring out your weaknesses? (CLICK HERE to read more.) But if learning something new today will increase your chances of success tomorrow, then why not pick up a new skill?
Still having trouble deciding what to learn next? I challenge you to practice my 8 skills above while attending a Funding Tour. Not only are you going to pick up many new skills, pump your brain full of information, and jumpstart your career, if you sign up today, we will pay for your seat.
To conclude, let's circle this all the way back to our friend Bill. How many books have you read this year? What are you reading right now? Who you will be in 5 years is an accumulation of what you do, what you read, what you watch, who you spend your time with, and who you listen to today. Remember, consistency is key!
We just finished reading "Eat that Frog!" by Brian Tracy. If you need a book for your "to be read" pile, I suggest picking up a copy and cracking open the spine.
To Your Success;
Lee A. Arnold
CEO
The Lee Arnold System of Real Estate Investing
Follow me on Twitter: @CogoCapital and @LeeArnoldSystem
Have a deal? Visit us at www.cogocapital.com to fill out your fast and easy quote. Want to learn more about COGO first? CLICK HERE to get to know all the ins and out!