Do you have an elevator pitch?
Imagine this, you're a private money broker at a real estate event, waiting for the appetizer plate to make the rounds when the person beside you turns with a smile, and introduction of their name, and this question: "So, what do you do?"
You have 8 seconds to respond. What's your answer? Do you slide into your default and give the title to your day job? Do you ramble off a quick explanation of your real estate business? Or, like most people, do you freeze, mutter some combination of the two, and quickly deflect the question back to them?
For all you know, that could've been the person with whom you did 10 real estate transactions this coming year, and instead of being prepared with an attention-grabbing response, you clammed up. Sure, you can extend a firm handshake and enthusiastically say, "I'm a private money broker!" But, unless you can capture their attention with your response, exchanging cards won't likely lead anywhere, especially if they've met other brokers at the drink table.
I recommend something a little less boring and a lot more about what you have to offer.
It's called an "elevator pitch."
You need one, and you need to have it ready.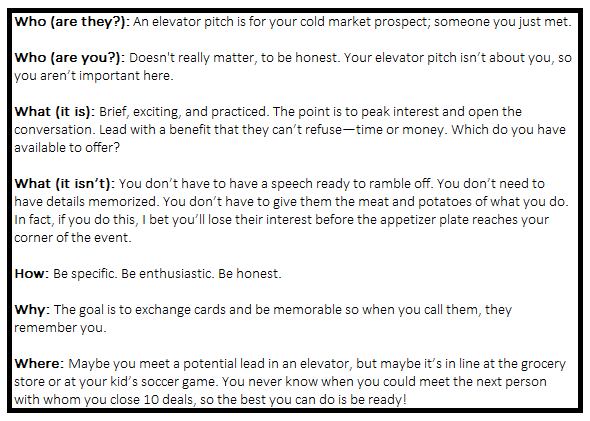 Okay, now that you have the basics, let's try it.
Them: "Hi, I'm Tom. I flip houses. What do you do?"
You: "Hi, Tom. I'm Nancy. I have a million dollars to lend. Do you need some?"
Did that grab their attention?
You deliver the line with enthusiasm and asked a questions ("do you want some") which hopefully garners a positive, memorable result. The benefit is that you have money to lend. Even if it isn't your personal money, you have access to it, and so you're being honest. The #1 fear for new real estate investors is where to find the money they need, so if you can solve that problem for them, you've increased your clientele.
You want to make them believe in you. You want to be passionate and specific. You want to walk the walk.
And, most important, you want to collect a card and connect with this person! If you can get them thinking about how they can make money with you, then you've made the right impression.
You've left them wanting more.
From there, call them, set up a meeting, and talk meat and potatoes. You may have your next, great client!
…By the way, the second biggest fear of new real estate investors is how to write an offer. If your fear of writing the offer is holding you back, I recommend attending one of our upcoming Funding Tours. Seats go for $497 at the door, but if you reserve yours now, I'll make sure the cost is taken care of by one of our hedge funds. For more information, click HERE.
If you're interested in learning more about the education you can receive with the Lee Arnold System of Real Estate, call us at 800-533-1622. If you have a deal and would like to get a quote from a private money, visit cogocapital.com
FOLLOW ME ON TWITTER: @LeeArnoldSystem and @CogoCapital