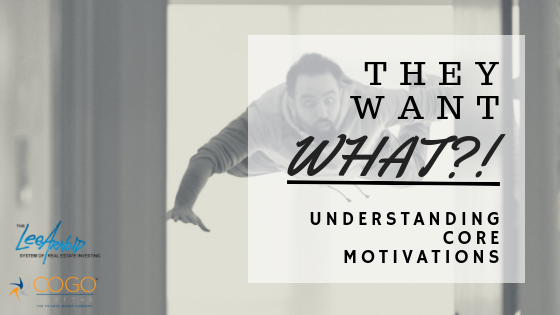 They Want What?!
Understanding Core Motivations
Have you ever looked at someone and thought, "What the HECK are they thinking?"
Of course you have.
And not understanding the motivations behind what people do doesn't just keep you wondering, it could be losing your profits. If you could better understand the motivations of others (especially when it comes to buying and selling properties or gaining broker clients), you can increase your chances of success and get what you want more times than not.
Every human is motivated by several core things. Discern these motivations and you have an upper hand. Here are 4 of the 7 core motivations that drive human behavior.
Core Motivator #4
Adventure.
Wait. What? How does our human desire for adventure determine our behavior, buying habits, and situational responses?
Isn't this a fun one to start with?
Whether you enjoy fly-fishing, playing cards, travel, or dance, we all have an adventure we crave. These experiences change through our life as our interests change, but we're always looking for something to do.
If you're going after your investing dreams with gusto, you know that you're going to have to give up some of your favorite activities to have the time, energy, finances, and effort to pursue your dreams. You don't have to become boring and give up all your interests, but our dreams often require sacrifices, and the fun stuff is the usually the first to go.
But it doesn't have to be. You can motivate yourself to reach your goals and KPIs (key performance indicators) by rewarding yourself with your favorite adventurous activities.
And when working with others–say a motivated seller–you can hit their pain points of this core motivator by showing them how much time and money they'll have to complete these tasks now that their house is sold!
Core Motivator #3
Growth.
We all want to grow. Even if you feel grounded in the past (because of past mistakes or powerful memories that keep you stuck), there is a part of you that wants to be better for tomorrow. It's innately in each of us; the need to grow.
You probably already know this. You've done your research to get the best investing education possible through The Lee Arnold System of Real Estate, and you take steps every day to become a better version of your money-making self.
But when it comes to working with others, you may find that this core motivator doesn't pop to the surface in each interaction. So, how can you use the motivator of growth to your advantage?
You can poke holes in the educations of others.
Oh man, that doesn't sound great, does it? But it is. We don't know what we don't know. If a field expert points out to you that you've been doing something wrong, you are likely going to listen (even if you balk at first). There's a reason experts are experts; they know their business.
When you're working with a potential seller, say a distressed home owners, you might be the only one to educate them on what will happen to them and their property if they don't act. If someone is about to go into foreclosure, for instance, they don't know what they don't know. Educate them and you will fill their subconscious need to understand and grow.
Core Motivator #2
Significance.
Most people are motivated by a sense of significance. They want to believe they have a purpose in this life. Why else is it so addicting to see how many "likes" we can get on a Facebook post. Why else does getting kudos from our boss light us up and ignite our passions for working?
When we feel that the things we are going after in life are significant, we give them more effort. Instead of being addicted to your phone, looking for significance in text messages and notifications, get addicted to the significance you can have in an investing career.
When you have a property prospect, try writing down ten things that you will do when you acquire that house that will impact those around you. Need help? Borrow from this list…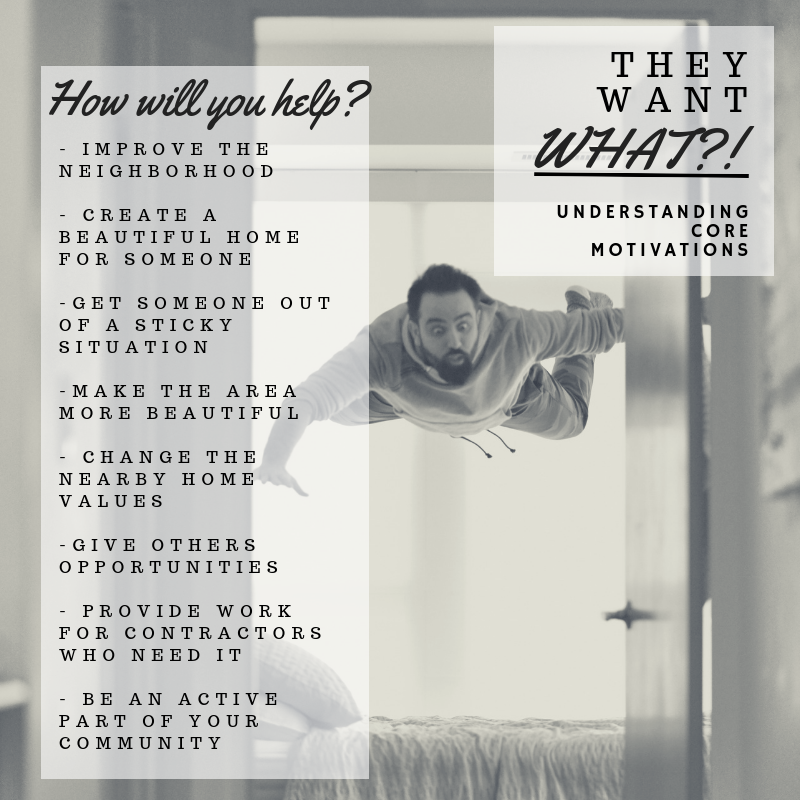 Core Motivator #1
Safety.
Safety drives the majority of what we do, whether we know it or not. If we feel unsafe, we stop. This, unfortunately, makes life tricky for some people who can't master their minds enough to understand what will and won't harm them. Let's put it this way; through thousands of year's worth of danger, we biologically see many situations as detrimental to our safety.
Loss of money? Oh no! We can't chance losing money or how will we pay our rent/mortgage and where will we go? No, no. We can't risk the danger to our safety, we should play it small instead.
Every time a news headline jumps out at us about the dangers of the world, this fear is reaffirmed. It's important to understand that at your core, you want safety. It is the fastest and most direct way to your subconscious; to see that there isn't a real safety breach in your situation and to convince your mind otherwise.
Now, how do you use this core motivator when assembling deals and gaining new clients? Understand that their safety is at the forefront of their mind, whether they realize it or not. Assure them that they are safe and that you want to help them find a win-win situation, and NOT put them in harm's way.
---
When you understand what motivates people, you can calm and reassure them that you have their best intentions at heart.
We have your best intentions at heart, that is why we succeed when you succeed.
To Your Success;
Lee A. Arnold
CEO
The Lee Arnold System of Real Estate Investing
Follow me on Twitter: @CogoCapital and @LeeArnoldSystem
Have a deal? Visit us at www.cogocapital.com to fill out your fast and easy quote. Want to learn more about COGO first? CLICK HERE to get to know all the ins and out!
---
Have a deal under contract that you would like a quote on? Let us know. You can fill out a quick questionnaire at CogoCapital.com to receive a rate quote via email or you can call us anytime at (800) 747-1104 to talk to a loan officer. With millions deployed and millions to deploy, we want you to get the capital you need for your real estate investing.
---
Timothy just left a new 5-star review of Lee Arnold System of Real Estate Investing:
I would highly recommend this company to all first time investors that I come across that seek funding. I enjoyed the entire team that was out in Milwaukee to train those of us in attendance.
Gary Meyers and Jarrod done a wonderful job during this weekend. I really enjoyed the bus tour to the properties in South Milwaukee. Secondly, it's a faith based company and this is very rare in the business and I see that God has blessed and will continue to bless those around Lee Arnold.
This is an education company as far as Real estate, training and funding. I wish I had met these guys a little earlier before I actually invested with the other companies which I won't name. I am currently in debt to the tune of $100K due to the other companies. If I known what I know now, I could have bought 10 homes and be on my way to financial freedom.
I would like to thank the entire team that was in Milwaukee for the weekend for a wonderful experience and I hope that we meet again.
---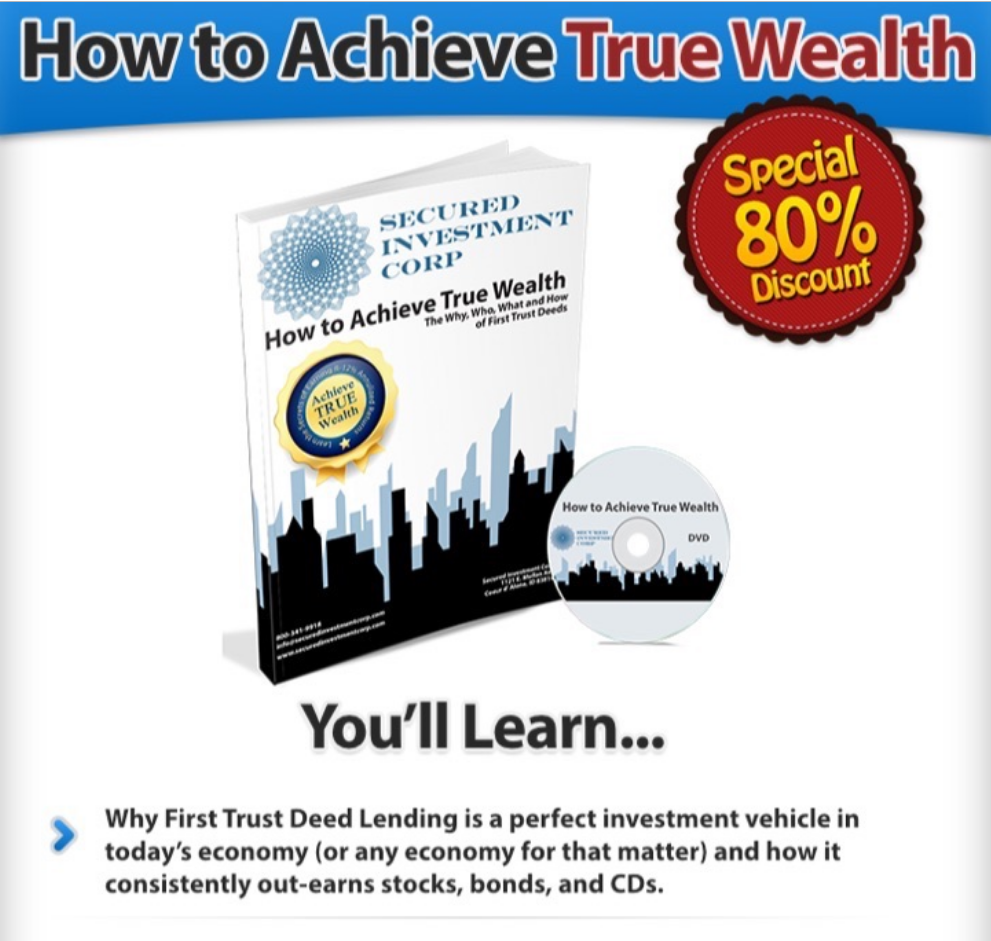 P.S. This brand new book and DVD teaches
you how to not only find qualified borrowers
and complete the necessary due diligence to
uncover hidden gems, but also BE the stellar
borrower so you can get all the money YOU
NEED to buy all the profitable properties YOU
WANT!
FINALLY no more guess-work on how to lend or
borrow private money again!!!
Get Your Copy Today: www.orderleearnold.com/truewealth