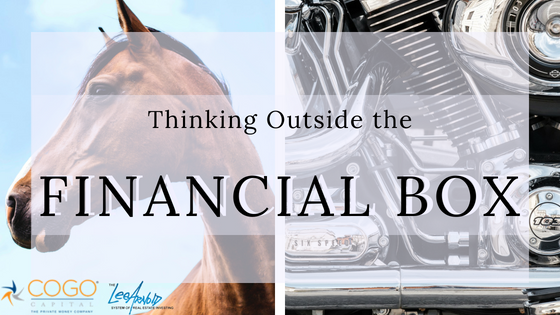 Are you stuck in a box?
Let's get you out.
Too often, we participate in something — undertaking a mortgage, getting a degree, starting a career that goes against our vision — because we feel like it is what we SHOULD do.
"Should" isn't always a bad thing. It can lead to fulfillment or at least get us on a path where we eventually find fulfillment. But it isn't a good substitute for great thinking. If you want what most people don't have, you need to do what most people aren't willing to do, and that means thinking outside the box.
Henry Ford wanted to solve transportation problems. The trouble was, people got around by horse-drawn coach, and because it was slow, people wanted stronger and faster horses. Could you imagine if Ford would've concentrated his efforts on equestrian breeding instead of building a working automobile and a company that has lasted 115 years?
If you have a non-conventional property under contract and you can't find the money you need to fund the purchase and repair of the property, you might be looking for a faster horse when what you really need is an engine.
Maybe you can't get a bank loan to cover your expenses, or you stood out among the competition and secured the contract by promising a quick close and fast money for the sell, and now you're pulling your hair out scrambling to keep the deal together.
Don't solve a vehicular problem with an equestrian solution.
You can buy houses without banks, close faster, and increase your productivity with multiple deals. You don't even need great credit.
As a full-service Private Money lender for real estate investors, Cogo Capital does most of the leg-work for you, while you build up your real estate portfolio and cash-flow all your deals. Whether it's for wholesale, rehab, or buy and hold for long-term cash investment deals, Cogo Capital delivers fast and easy access to Private Money. As an equity-based lender, they care more about the property's merits, and they don't focus on poor credit, or some of the other factors conventional lenders use to rate the risk.
But I'm putting the cart before the horse.
If you have a property problem that you need a creative solution for, you need to open to the possibility that the solution might exist outside of the box and beyond your comfort zone. Whether your situation requires a bridge loan or you need lending that helps you manage your contractors by keeping you on pace with draw schedules, you have a solution as far as you have the right people on your side.
There's a multitude of ways you can think outside of your financial box, regardless of what the neigh-sayers state. You don't have to do things the way everyone else does them. You don't have to take out a bank loan or max your credit cards on cash advances to get into real estate investing.
If you have a unique property problem, it will require a unique solution. Avoid the long face and talk to a loan officer today about your property problems.
Whether you need a fix and flip loan, a rehab ARV loan, or a cash-out refinance, just fill out the quick and easy application at CogoCapital.com and we'll be on the way to getting your deal funded. After reviewing your application, and provided your property is under contract, we'll contact you for the rest of the information.
And in case I haven't made enough horse-related puns for you to get a kick out of (fall of which I believe have been executed without a hitch), don't rely on the power of a single horse beneath, but rather get behind a greater horse-power. In other words, get a team of professionals behind you and you'll go further and faster than you could have on your own.
To Your Success;
Lee A. Arnold
CEO
The Lee Arnold System of Real Estate Investing
Follow me on Twitter: @CogoCapital and @LeeArnoldSystem
Have a deal under contract that you would like a quote on? Let us know. You can fill out a quick questionnaire at CogoCapital.com to receive a rate quote via email or you can call us anytime at (800) 747-1104 to talk to a loan officer. With millions deployed and millions to deploy, we want you to get the capital you need for your real estate investing.