We've come to the conclusion of our 3-part series on Wholesaling Success.
First, we talked about what wholesaling is and why it's a quality investment strategy. If you missed it, CLICK HERE to get started with Part 1. Then, we discussed Finding motivated sellers, CLICK HERE to read Part 2!
This week, we'll finish off with how to qualify the sellers and how to find the best buyers.
When you acquire a property, I urge you to follow the rule of wholesaling first, retailing second, lease-to-own third, and renting as a last resort. If you're jumping straight to the second step with the intention to fix and flip, you could be missing out on the quick cash/lower risk equation of wholesaling, and therefore have very few tools in your wholesaling toolbox to pull out if you ever needed to dump a property quick.
---
Questions to Qualify the Seller

In today's market, some homeowners struggle to get a single offer on their property while others get their pick from many. Just because a homeowner is selling for less (especially if it's a distressed property) doesn't mean they're powerless.
Getting to know the homeowner's situation and goals is crucial in determining what to offer for the property. By asking a few simple questions, you can determine their landscape and the best course of action you need to take in order to get the property for your desired price (low enough that
What is your situation? Why do they want to unload their property? Because they inherited it and don't want the trouble? Because they're behind financially and need some relief? Find out their why.
Are you trying to get out from under the property? When there is urgency from the seller, there is more power in your offer.
Are you willing to seller-finance the deal? Finding out your financing options can benefit you by putting together a multi-tiered offer.
How fast do you need to sell the property? Again, urgency! If you can offer relief for someone in a desperate situation, not only can you turn a quick profit, you're
Is that the best you can do? Get them to name the price first. When you ask this question and then stay silent, you could be surprised how they talk themselves down on the price. Whatever they say can easily be the starting point for your offer.
---
Finding the Best Buyers

Waiting until you have a house under contract is the latest you should start building your list of buyers. If you already have a list of potential buyers, you can sell faster and usually for more profit, since you have time on your side. But how do you find buyers before you have a property? By networking, networking, networking.
Call other investors from their marketing efforts. When you see bandit signs, ads, fliers, etc., save the information. Whether you reach out and qualify them as a potential buyer before you have a property or you wait until yours is under contract, keeping these contacts can mean easy business transactions.
Attend Real Estate Investments Associations (REIAs or REIs). Get to know other investors in your area. You could meet someone who exclusively flips and is always looking for a good deal.
Craigslist Ads. If you're looking for a free and hassle free way to get the word out there, post the house on Craigslist as soon as you have the deal under contract. Just be sure to understand your Craigslist market and when the best times are to post so your listing doesn't get buried. You also want to play with your ad copy to assure you're using the right keywords, and perfect your titles to optimize this strategy.
Newspaper Ads. Like Craigslist, you can reach a lot of people without a lot of investing, and you can often use similar (if not the exact same) title and copy as your Craigslist ad.
Bandit Signs. Or other marketing efforts like fliers, direct mail, etc. Don't just rely on others to do this; put your name and number out there and have some leads get a hold of you.
Foreclosure Auctions. Even if you have no intention of bidding, you can find cash buyers at these auctions. Attend and watch; see who doesn't purchase a property and approach them with your deal. Exchange business cards and make connections.
---
Questions to Qualify the Buyer
Just like sellers, all buyers aren't the same. Not only do you want a healthy list of potential buyers to assure that you can move your wholesale properties quickly, you should qualify the buyers so you know who to contact about what properties.
It can be like a really fun game; property match making! The better you can connect buyers with the kind of properties they're looking for, the more properties you can move quickly and the higher you go on their "go to" list of wholesalers. Once I laid the groundwork for my wholesaling list, I had people reach out to me looking for properties all the time and often had houses vetted to buyers before I had them under contract.
To find out what buyers are looking for, ask them the following:
What types of properties are you looking for?
What areas are you interested in?
What price range are you looking for?
What is your experience level?
How do you plan on financing the deals I send you?
How quickly can you close?
What constitutes a good deal for you? This is the percentage of value, minimum profit, minimum cash flow, etc.)
What level of repairs are you comfortable with?
---
---
The Key to Wholesaling

Consistent marketing! If you have motivated sellers and nonstop marketing, you will have wholesaling success!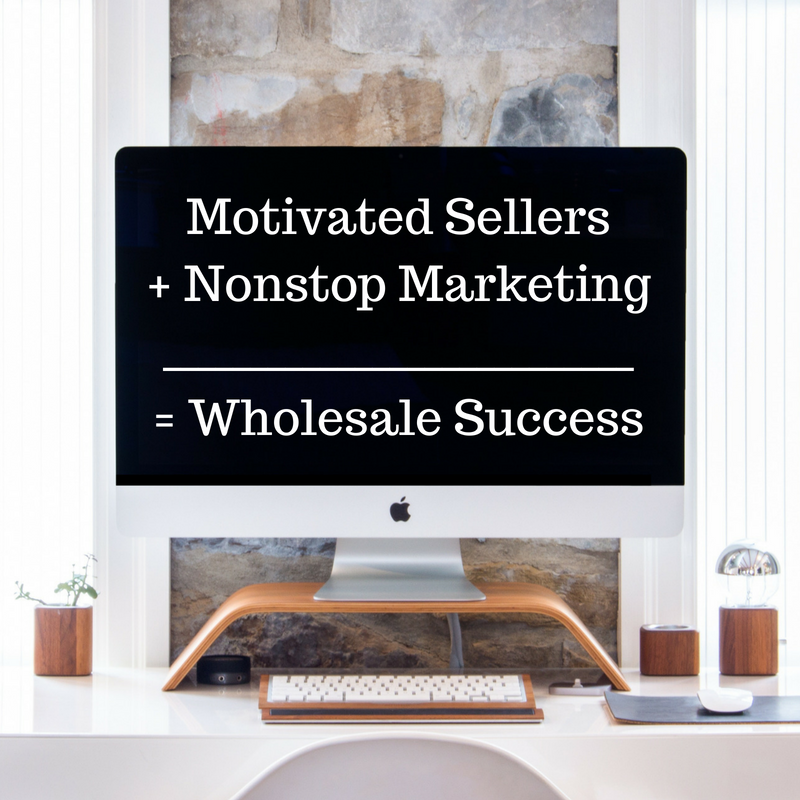 ---
Why I Wholesale

If you aren't convinced yet that wholesaling is a great idea, let's talk more about why I do it. Because I still do it!
Wholesaling keeps me networked. I'm sure you've heard the saying "Your money is in your list." Well, wholesaling helps me keep a nice, long list of potential buyers and keeps me pursuing distressed properties.
It takes less labor than flipping. Less labor means less accounts payable and less management.
It's a quick transaction. Quick means I can do more, I can get paid faster, and I can move on to the next property.
It's fast cash. I like fast cash.
It gives me cash for my rehab business. Renovating homes to put on the retail market costs money. And yes, I make money in the rehab business, but when I can use my own cash for the costs of flipping, I don't have to pay for that money (i.e., carrying costs).
It keeps my pipeline full. If I don't sell the property through wholesaling it, I flip it! By keeping my wholesale portfolio filled, I rarely run out of options.
---
Now you know:
1. What wholesaling is.
2. Why it's a sound investment strategy.
3. Creative Deal Structuring.
4. Finding motivated sellers.
5. How to qualify the sellers
6. How to find the best buyers
---
If you're struggling to understand and incorporate the information into your business, give us a call, and we'll find a way to help. We can find the right training to fit your needs. (800) 473-6051
To Your Success;
Lee A. Arnold
CEO
The Lee Arnold System of Real Estate Investing
Follow me on Twitter: @CogoCapital and @LeeArnoldSystem
Have a deal under contract that you would like a quote on? Let us know. You can fill out a quick questionnaire at CogoCapital.com to receive a rate quote via email or you can call us anytime at (800) 747-1104 to talk to a loan officer. With millions deployed and millions to deploy, we want you to get the capital you need for your real estate investing.