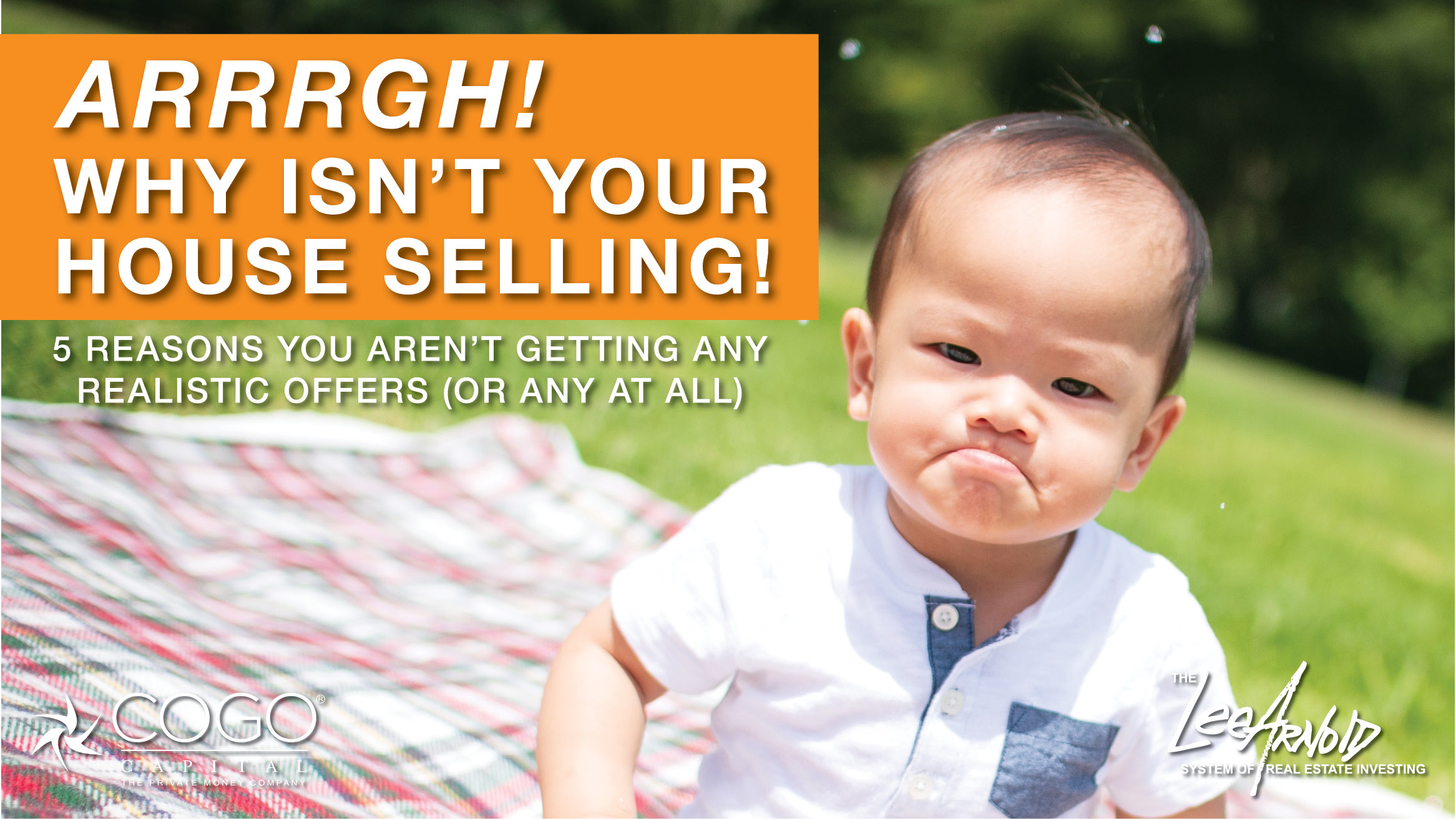 5 Reasons you aren't getting any realistic offers (or any offers at all)
IT'S FINALLY TIME! Time to get excited and ready to turn a profit! You've finished all the hard work, you've completed the rehab, or you've "slapped some lipstick" onto your investment property. You're finally ready to sell your house! You've checked your to-do list 20 times and made sure that everything is "just right".
WOOHOO!
You list your house, post it on Zillow, put it on Redfin, and anywhere else you can possibly get it and now you wait… and wait… aaand wait.
Well, what happened? You swear you've covered all your bases and you know that your property has been looked at by at least somebody. So why aren't people wanting to put in an offer?!
By this point you're frustrated and ready to tear your hair out because you know the market is right and there HAS to be someone out there that wants to buy your house, right?
YOU'RE RIGHT
Someone out there does want to buy your house but there could be a few things that are driving them away. So, what do you do now? Sometimes the smallest tweaks can turn a frustrating situation into a flourishing opportunity.
#1 PRICED TOO HIGH
The most debated thing when selling your home: listing price. If you aren't having any interest in your listing, the first thing to do is check and see if it's priced too high. Overpricing a home can kill hopes and dreams of buyers trying to get their dream home. Overpricing a home can actually cost you more money in the long run.
Before pricing your home, you should understand how the market value of a home is determined, you can't pull a number out of thin air. The best way to price your home is to look at comparable houses in the surrounding area. There are free resources online that can show you the market value of the homes in your selling neighborhood.
#2 NOT BEING FLEXIBLE OR REALISTIC
You have to be flexible and think realistically when selling any property. There will always be someone who offers less than asking price. There will always be someone who "overanalyzes" everything in the house. There will always be someone who wants to push your boundaries!
You have to be flexible and realistic when selling a home – bottom line. Remember that most buyers are going to have an inspection, not all buyers can view your home when it's convenient for you, and that not every offer is going to be full asking price.
If you receive a low-ball offer, don't let your emotions get the best of you. If you receive repair requests from a home inspection, look at them with an open mind and if they're safety issues, you should consider addressing the requests. Being flexible and realistic during the sale of a home is an important tip for success!
#3 STAGING MISTAKES
First impressions are the only shot you have at selling your home in today's market. This is true whether your house is posted online, or you are holding an open house. If you clean up and make sure that everything is tidy, then you're off to a good start! $150.00 in staging can make the difference between a low-ball offer and a bidding war between multiple buyers. There are many tactics for staging a home that can make you more money when it comes to the closing table.
The best resource for learning how to stage your house on a budget is Staging Small to Profit Big where you will learn how to maximize profit with minimal costs, stage every room in the home (even rooms you never thought about), negotiate with photographers to get the best pics at the best price, how write listing copy that converts, how to list on the MLS and create a virtual tour, and much more!
#4 PHOTOS, PHOTOS, PHOTOS!
90% of homes are seen by people who have never set foot on the property. There are thousands of homes listed on Zillow, Redfin, Trulia, Realtor, the list goes on and on. If you look on these sites, you'll see the properties that stay on them the longest, are either priced too high, or have poor quality photos (or a lack of photos).
One of the most important things to do when selling a home, in today's society, is to have multiple high-quality photos of the property. These include pictures of the exterior, and ALL of the interior of the home. You want to highlight the work you've done and show how amazing the house is! At the least you'll need to have photos of the exterior, the yard (front and back), the kitchen, the bathroom(s), the bedroom(s), and the living room.
NOT ENOUGH MARKETING
How can you expect people to see your home if you don't have it listed through more than one resource? The more eyes on your property, the more likely it is to sell, or even better, receive multiple offers. If your home isn't selling, it might be due to a lack of marketing exposure.
Like stated in the last section, the majority of home buyers are using the internet to shop for homes. You absolutely NEED to get your house everywhere online, and there are hundreds of free resources available to get it out to the masses.
---
The best way to make sure you're not making mistakes when it comes to selling your investment property is to attend any of our nationwide FUNDING TOURS in a city near you! Get serious about your real estate investing business and receive a $250,000 pre-approval letter for buying real estate investment properties!
Register at www.fundingtour.com or call us at (800) 341-9918. We'll help keep you on track to achieve your real estate investing goals.
If you want to make sure you're a step ahead of the competition when it comes to selling your home check out the education you can receive with the Lee Arnold System of Real Estate, call us at 800-533-1622. If you have a deal and would like to get a quote from a private money specialist, visit Cogo Capital