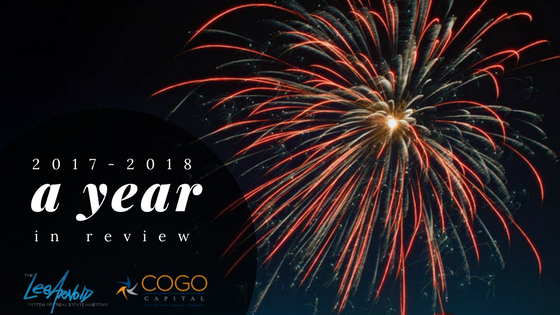 Wow.
2017 was amazing!
Here at the offices of the Lee Arnold System of Real Estate, we relocated into a larger building, broke company records, ushered so many amazing people into our world from all over the country, helped thousands of people, opened a new area of study (the Master Lien Abatement Course), and pruned you to be at your best! At Cogo Captial, we deployed millions in private funds to you and those like you investing in real estate, expanded the states in which we lend, and created wealth for borrowers and lenders alike.
Before we lean into the amazing opportunities awaiting us in 2018, let's take a look back on some of the most helpful topics we've covered, success stories we were privileged enough to be a part of, and motivational tools that helped you be at your best!
---
Best Business Tools
---
Best Testimonials
---

Best Personal Development
---
Best Instructional
---
Best Broker Blogs
---
Best Real Estate Advice
---
Best Private Money Advice
---
With so many good articles, blogs, and testimonies not covered in this brief overview, I encourage you to go through the archives of both this, the Lee Arnold System of Real Estate blog and the Cogo Captial blog. Print, share, tweet, forward, and reread as many of these articles as you can. This steady abundance of educational tools is, as always, my gift to you!
What are your goals, strategies, and ambitions for 2018? If you haven't set your S.M.A.R.T. goals, jump over to the Cogo Blog to learn more and dive into your New Year's planning the smart way! CLICK HERE for more.
Let's work together to make 2018 the best year yet!
If you're ready to kick it up a notch, join us for a FUNDING TOUR and we'll provide you with a $250,000 pre-approval letter to support your next transaction. For more information on what a FUNDING TOUR is and why I believe so strongly that you should attend that I'll pay for your $497 seat, visit fundingtour.com or call 800-533-1622.
To Your Success;
Lee A. Arnold
CEO
The Lee Arnold System of Real Estate Investing
Follow me on Twitter: @CogoCapital and @LeeArnoldSystem
Have a deal? Visit us at www.cogocapital.com to fill out your fast and easy quote. Want to learn more about COGO first? CLICK HERE to get to know all the ins and out!