Ask Me Anything
We help people succeed every day. I'm so committed to watching you quit your dead-end job in favor of being your own boss that I've poured my reputation into it. I want to help you make so much money that you pay more in taxes then you've ever MADE before.
Okay, so dreaming big may get my engine revved, but you still have questions. Fair enough.
It's been a while since my last "Ask Lee" session, so let's get to your burning questions!
Q- Do people really purchase homes they've never seen before? It seems like you should at least get a peek inside before committing.
A- It may not occur often, but if a home auction is happening with auction.com, Marshall & Swift, or another auction group, you may be allowed access to the property before the auction takes place. This can be a true advantage, especially since most trustee sale and sheriff's auctions will not let you into the house unless you have a realtor key–or if the house just happens to be left unlocked. (Even if that is the case, if someone is living there, do not go on the property!)
If you get to see inside, you can better judge the ballpark rehab costs, watch for red flags, and better estimate your time and investment for that property. But it's more likely that you won't get to see inside.
So what do you do if you're interested in purchasing a property at auction, but you have no idea what you're getting into?
You can try to look through the windows from the sidewalk, sure, but the easier and more efficient strategy is to understand the type of people who occupy the home.
Go across the street, knock on the neighbor's door, and say, "Hey, what can you tell me about the people who currently live there?"
Chances are they will unload on you, telling you everything you never wanted to know, and you'll have a good idea what condition the home is in.
If you can't get a neighbor to answer the door, the next best way to estimate the house's condition is by analyzing the exterior. Generally, the inside will match the outside. So, if you're staring down a forest of weeds with a cracked walkway and a car without tires in the drive, you can estimate your rehab costs on the high end. If the grass is trimmed and the paint is a little worn, but things seem alright, you're probably looking at less work inside.
Houses can be like the prize in a cracker jack box–hard to tell from a little shaking. But, even though there is no true science to predicting the interior of auction homes, you will find that you develop a keen, instinctual eye the more you view, bid on, and purchase. Some may surprise you, but understanding the signs of neglect from the outside and knowing who occupies the property can save you a lot of guess work.
Q- I'm interested in a property that isn't too far (about an hour), but you recommend staying within 20 miles or so from where I live. If these opportunities come up, should I consider them? I hate to let a property go!
A- Although I recommend staying within your market whenever possible, not everyone has the best opportunities in their zip code. That shouldn't stop you from putting good deals together.
If your area is truly dry of opportunity, don't let that stop you. Some of our best success stories come out of very small towns, but that isn't the case for everyone. So, how do you get your feet on the ground in another area without being there?
Call a Friend. This also helps narrow down your field of search because you can only call those areas where you have connections. Try a cousin, a friend-of-a-friend, or even connect with a member of a REI group in that town and make a new friend. Use caution: results may vary depending on the motives of those with whom you work.
Use Craigslist and other online platforms (like WeGoLook.com). Not only can you get a glimpse into what other people are listing in your desired areas by checking Craigslist, but you can also hire people to do some ground work. Hop on Craigslist in your chosen location and write up an ad saying that you're looking for people to drive by properties, take photos, and communicate thoroughly. You can pay by lead or by the hour. Sure, you'll probably get some seedy people who reply to the ad, but once you weed them out and with a little instruction (Check out this guide on Driving for Dollars), you'll have someone (or multiple someones) on the ground, bird dogging areas for you.
Q- If you could give one piece of advice to someone starting from scratch with their real estate investing, what would it be?
A- The first step to success is wanting it. Because you're asking the question, I assume you are among this group.
The second thing I would tell you is to get yourself the best investing education you can. Not only will this set you up for more success than years of trial and error on your own, it will alleviate the pressure to know what you're doing when the stakes are high.
Now, other than that, I do have one significant piece of advice for investors who are just starting out…
Buy Smart
You don't make money when you sell a flipped property, you make money when you buy it.You need to purchase a property right, or you're already on the wrong foot. So, how do you determine how much to off on a property in order to make money on it? The formula is easy!
Take the ARV (after repair value of the property, i.e. the retail value), multiply it by 70%, and subtract the cost of repairs. Whatever is left is your MAO (maximum allowable offer).
Let's say you want to put an offer in on a property that has an ARV of $200,000. Take $200,000 x 70% = $140,000. If the renovations will cost $40,000 (get several estimates by licensed and bonded contractors), that's $140,000 – $40,000, which = $100,000. The maximum amount of money you should offer on this property is $100,000, and if you can get it for less, you'll make more!
So, $200,000 (ARV) x 70% = $140,000
$140,000 – $40,000 (rehab cost) = $100,00 (MAO)
Got it? Good!
---
Your success is in your hands. But with help, you can get there faster. If you're looking for help, you've come to the right place.
And speaking of going places…
Join me on Facebook to see how I REALLY run the office…
To Your Success;
Lee A. Arnold
CEO
The Lee Arnold System of Real Estate Investing
Follow me on Twitter: @CogoCapital and @LeeArnoldSystem
Have a deal? Visit us at www.cogocapital.com to fill out your fast and easy quote. Want to learn more about COGO first? CLICK HERE to get to know all the ins and out!
---
Have a deal under contract that you would like a quote on? Let us know. You can fill out a quick questionnaire at CogoCapital.com to receive a rate quote via email or you can call us anytime at (800) 747-1104 to talk to a loan officer. With millions deployed and millions to deploy, we want you to get the capital you need for your real estate investing.
---
Timothy just left a new 5-star review of Lee Arnold System of Real Estate Investing:
I would highly recommend this company to all first time investors that I come across that seek funding. I enjoyed the entire team that was out in Milwaukee to train those of us in attendance.
Gary Meyers and Jarrod done a wonderful job during this weekend. I really enjoyed the bus tour to the properties in South Milwaukee. Secondly, it's a faith based company and this is very rare in the business and I see that God has blessed and will continue to bless those around Lee Arnold.
This is an education company as far as Real estate, training and funding. I wish I had met these guys a little earlier before I actually invested with the other companies which I won't name. I am currently in debt to the tune of $100K due to the other companies. If I known what I know now, I could have bought 10 homes and be on my way to financial freedom.
I would like to thank the entire team that was in Milwaukee for the weekend for a wonderful experience and I hope that we meet again.
---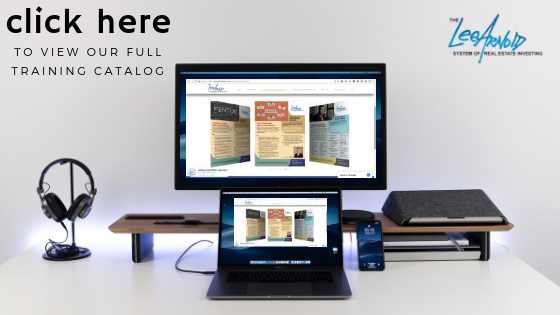 Download your PDF here: RCP or visit https://leearnoldsystem.com/lp/catalog/ to learn about all of our certifications. You can bring your questions to a Business Development Consultant today by calling (800) 473-6051.