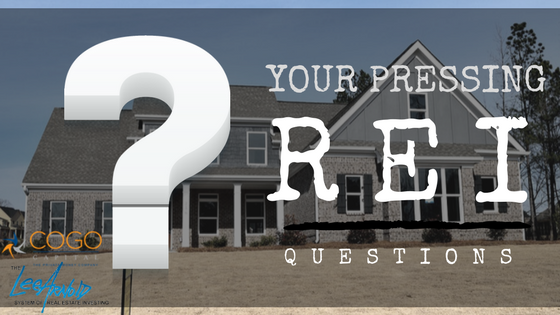 Ever Wonder What Others Are Wondering About REI?
I get a lot of questions, and I'd like to make it easier for you to get answers. Today, I'm fulfilling several of the questions I've recently received about real estate investing and private money lending.
Because when you know better, you do better!
1- "I recently heard it said that one should try to wholesaling a newly-acquired property before trying to fix and flip it. I thought fixing the property lead to higher gains. Why try to dump it before you've made any money?"
Wholesaling a property is not only a fast way to get it through your real estate portfolio, it's also a quick way to build capital.
Let's say I purchase a property for $45,000 in a neighborhood where the average property appraises out for $120,000. I bought it for $45,000 and if I wholesale it to someone else for $55,000 I've made $10,000 on the deal for being involved in the transaction for a short period.
Then, let's say the new buyer then puts $30,000 into the rehab of the property and then sells it for $120,000. They have now made $35,000 on their end of the deal by being involved in the transaction for several months.
In other words, I make less as the wholesaler but earn money quickly, while they make more by putting in substantially more work. Make sense? You control it, sell it, and keep the center!
In case you need another reason to try wholesaling first, here are 5:
1. It's FAST. With a growing number of real estate investors looking to flip houses, you can buy and wholesale quickly.
2. You don't have to deal with tenants or contractors.
3. You don't need cash or credit. If done the way I teach, you simply control the property with contracts without getting your capital involved…which is great if you don't have any of your own capital! The end-buyer investor uses cash, lines of credit, or hard money loans to purchase it from you.
4. There's little to no risk. You don't even have to close on the property. You can just assign contracts. I'll show you how. In fact, I'll show you what clauses to use in your contract, so you don't have to purchase the property, and if you don't obtain a buyer in time, you simply walk away, keep your earnest money, and you're essentially out nothing (except time).
5. And…you don't have to know very much about real estate investing!
---
Have a deal? Visit us at www.cogocapital.com to fill out your fast and easy quote. Want to learn more about COGO first? CLICK HERE to get to know all the ins and out!
---
2- "So, what if I can't wholesale the property? Does that mean that if no one wants it for such a great price, it's no good and I shouldn't fix and flip it?"
Absolutely not. Even if you try to wholesale the property and it doesn't sell, you need an exit strategy. Retailing a property—otherwise known as fixing and flipping—is a real estate investing path that puts more money in your pocket and builds an opportunity for long-term wealth faster. With more testimonies than we can count (but check a few out <HERE> and <HERE>), we've proven time and again that this is a lucrative way to improve neighborhoods and build your REI business.
Here's a list of other reasons to fix and flip a property:
1. Retailing a property maximizes the return on your investment. You are forcing the appreciation of the property through sweat equity.
2. It creates a feeling of satisfaction in physically changing a property's worth.
3. You don't have to use your own money, and this capital is tied up for less time than a buy-and-hold (Rentals/lease option properties).
4. Flipping also eliminates the management and leasing risk inherent in holding real estate.
5. When done right, you make a big profit in a short period. If practiced the way I teach, flipping a property will yield a significant profit in 90 days or less, which means you have the potential to do several properties in a year. Essentially, this way you get to determine your annual income.
---
Have a deal? Visit us at www.cogocapital.com to fill out your fast and easy quote. Want to learn more about COGO first? CLICK HERE to get to know all the ins and out!
---
3- "Please explain the difference between hard money and transitional/transactional funding?"
Transactional funding is for a short period of time; anywhere from 1-3 days. It's very expensive and very short term, and usually only comes with a "point" attached. A point is nothing more than a percent. So, if you want to borrow $100,000 for this 1-3 day period, and it costs you "5 points," that means 5% or $5,000 you must pay just to borrow that money for those short, few days.
Hard money works like this; say you need $100,000 for 6-12 months for the residential housing market (or 18-36 months, as commonly found in the commercial sector). A lender could charge you 5 points, which is $5,000, and you'll also pay interest monthly.
$100,000 @ 5 points ($5,000) + 15% interest payment is going to run you $20k (I'm using simple, noncompounded numbers here for this example). That's $20,000 spent for the$100,000 over the duration of the loan.
So, when is it a good time to borrow hard money? When it's a good deal. If that $100,000 means you can fix that property up with a net of $50,000 made, then if you have to spend $20,000 to make $30,000, that's a great deal!
---
4- "I want to purchase the duplex I am currently renting. Is there a loan I could get to buy the place?"
If your intention is to continue living in the property, a hard money lenders will not lend to owner occupants. You're likely going to have to go conventional.
If your plan is to move out of the property and become the landlord, then you could potential go either way, but you better have a plan.
---
5- "Once I find a good deal and have it under contract, where can I find the hard money required on both a local and a larger scale?"
First of all, thank you for wording your questions in such a manner. Your first step, of course, is to find the deal and have it under contract!
Thankfully, the next part is easy. Hard or Private Money Lenders are looking for you.
First, go to your local paper and look under the section titled "Money to Lend." With the list, call them and begin the conversation. They will likely for an email correspondence, asking for the contract to see, what the terms are, who are the parties (buyer/seller), and are you going to purchase the property under a personal name or your LLC.
Buying property with the purpose of flipping it = Buying in your LLC
Buying property with the purpose of holding it (hard money for short-term bridge, fix it up, and refinance in your name under conventional financing = Buying in your name.
Buying a property with a credit partner (someone with a great credit score who could refinance in their name) = Buying in THEIR name.
Your exist strategy should determine your entry strategy, because you don't want a clouded title!
Then, once you've search locally in the paper, go to your search engine of choice (mine's Google), type in "hard money lender, your city, your state, and the zip code of the property." A hard money lender that is using search engine optimization will use those elements to populate their website. Again, get on the phone!
Call every single one of them. If you can't find a lender, the problem is probably 1 of 2 things: you aren't calling them all, or (more likely) your deal isn't that good. If you have a good deal, funding is the easiest thing to get.
---
If you have questions you'd like answered, tweet me your questions and include my twitter handle @LeeArnoldSystem or @CogoCapital and I could answer them next time.
Happy Investing;
Lee A. Arnold
CEO
The Lee Arnold System of Real Estate Investing
To read our latest success story and learn how a high school dropout is now making 6 figure paychecks, CLICK HERE.

To learn more about attending a Funding Tour near you, visit FundingTour.com
or call
800-473-6051